Today, Nvidia finally announced the rumored RTX 20xx series cards, ahead of Gamescom 2018. Three new cards, that are chockful of all the latest and greatest technological jargon. Teraflops, Ray Tracing, and a bunch of other words you may or have heard before. All I know is once Nvidia's CEO Jensen Huang took to the stage, people didn't care how much he talked. How boring he got and let's be honest, some parts were boring but only because Jensen is super passionate and I respect that. But for many at the show and watching online, we just wanted to get the dirt on the new cards.
And there was much dirt to be given. Three new cards; RTX 2070, 2080 and the 2080 Ti cards. All of which reportedly pack more power than even the GTX 1080 Ti. Of course, all we really heard about was how great Ray Tracing is and how these cards are awesome at it. Which is nice and all, but we're still a few years away from games using this technology. Well, with the exception of the games that debuted the RTX cards. Namely Battlefield V, which looked stunning running on the RTX GPU.
 Now, as much as I'm looking forward to these new cards, I have to put myself in check for a bit. New GPUs are like any other technology and as such you need to take a wait and see approach. We need (should!) wait and see how these cards fair in actual benchmarks first. Of course, it's your money and I'm not telling you how to spend it. Just my two cents. That said, let's check out these cards.
| | GeForce RTX 2080 Ti Founders Edition | GeForce RTX 2080 Founders Edition | GeForce RTX 2070 Founders Edition |
| --- | --- | --- | --- |
| CUDA Cores | 4352 | 2944 | 2304 |
| Ray Tracing | 8 Gigarays per second | 8 Gigarays per second | 6 Gigarays per second |
| Base Clock | 1350MHz | 1515MHz | 1410MHz |
| Boost Clock | 1635MHz | 1800MHz | 1710MHz |
| Memory | 11GB GDDR6 | 8GB GDDR6 | 8GB GDDR6 |
| Graphics Card Power | 260W | 225W | 175W |
First up is the RTX 2070, starting at $499.99. Followed by the RTX 2080, starting at $699.99 and finally the RTX 2080 Ti with a $999 price tag. That's for reference cards, while Nvidia's Founders Edition cards will run you a bit more. The RTX 2070 at $599, RTX 2080 at $799 and the Ti for $1199. Now, keep in mind that Founders Editions are typically more expensive compared to 3rd party cards. So there's a possibility that you can find this cards for a bit cheaper. Except, from what I've seen as of today. Even the 3rd party cards are prices similarly to Nvidia's own cards. We're looking at a September 20th, 2018 release date for most of the cards to be released.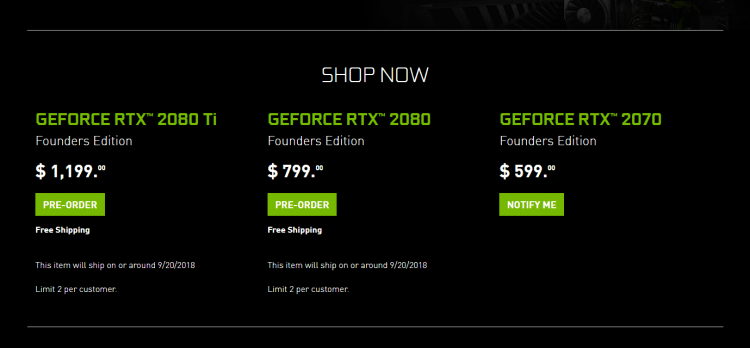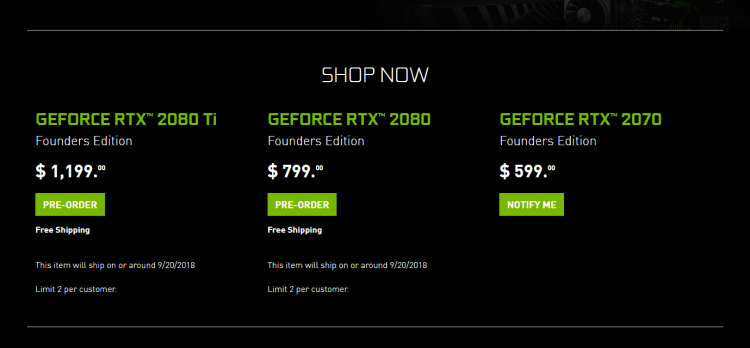 Will these cards be the leap that Nvidia is claiming them to be? They very well could be, however, there's a huge chunk of information that was absent from the RTX announcement. For me, a very passionate PC gamer, I could care less about Ray Tracing. At least for right now. All I care about is will these new cards give me a framerate boost. Can I run my games at 4K @60 FPS or above and ultimately, will they make me awesome Fortnite. Well, scratch out that last part. And sadly, we got none of that information from the conference.
Sure, we heard these cards were more powerful than the GTX 1080 Ti, but only when it comes to Ray Tracing. I want to see comparisons and benchmarks on a video card that costs more than my mortgage. I need real world data to back up these claims, which is something we don't have right now. You'd think they would have been blasting these figures all day. Which just adds to my hesitation on dropping the case on these cards so early.
Hopefully, we'll see this prior to the launch of these cards. That is if Nvidia doesn't embargo the benchmark data until the day of release. Until then, maybe it might be a bit cost effective to check out one of Nvidia's GTX 1080 or GTX 1080 Ti cards. At least until we get some concrete data that is indicative of these cards performance. Then and only then, will I look at possibly getting one of these cards; and if my master "AKA the Wifey" allows me.
One thing is for sure, I'm loving the design of the new cards. Easily some of the best looking cards Nvidia has produced.