Remember the when they announced the yet to be revealed mode where players could get a chance at $1M playing WWE 2K19 against AJ Styles? That mode is now called WWE 2K19 towers, and all I could think about is the following:
Yes. That's right Mortal Kombat. The crazy thing is – that's exactly how it works. 
Debuting in WWE 2K19 is a new feature called Towers. In this new mode, players choose WWE Superstars or their MyPLAYERs to compete against a string of WWE Superstar opponents. Each Tower features its own unique theme and is populated by a roster of WWE Superstars across a variety of challenging matches, including different win conditions and fun stipulations.
There are two tower types in WWE 2K19 – Gauntlet and Steps. The Gauntlet tower works like a Gauntlet Match. Lose a match or quit early, and you'll have to start from the beginning. The Steps Tower allows you to take it at your own pace, one match at a time. I can see the Gauntlet Tower being subjected to speed runs – honestly speaking, I'm fine with this. Some Towers even have stipulation and challenges that spice up the gameplay, such as player and opponent buffs such as starting with red health or having a stockpiled finisher available. The match types are varied as well.
The different superstar towers that exist are the following: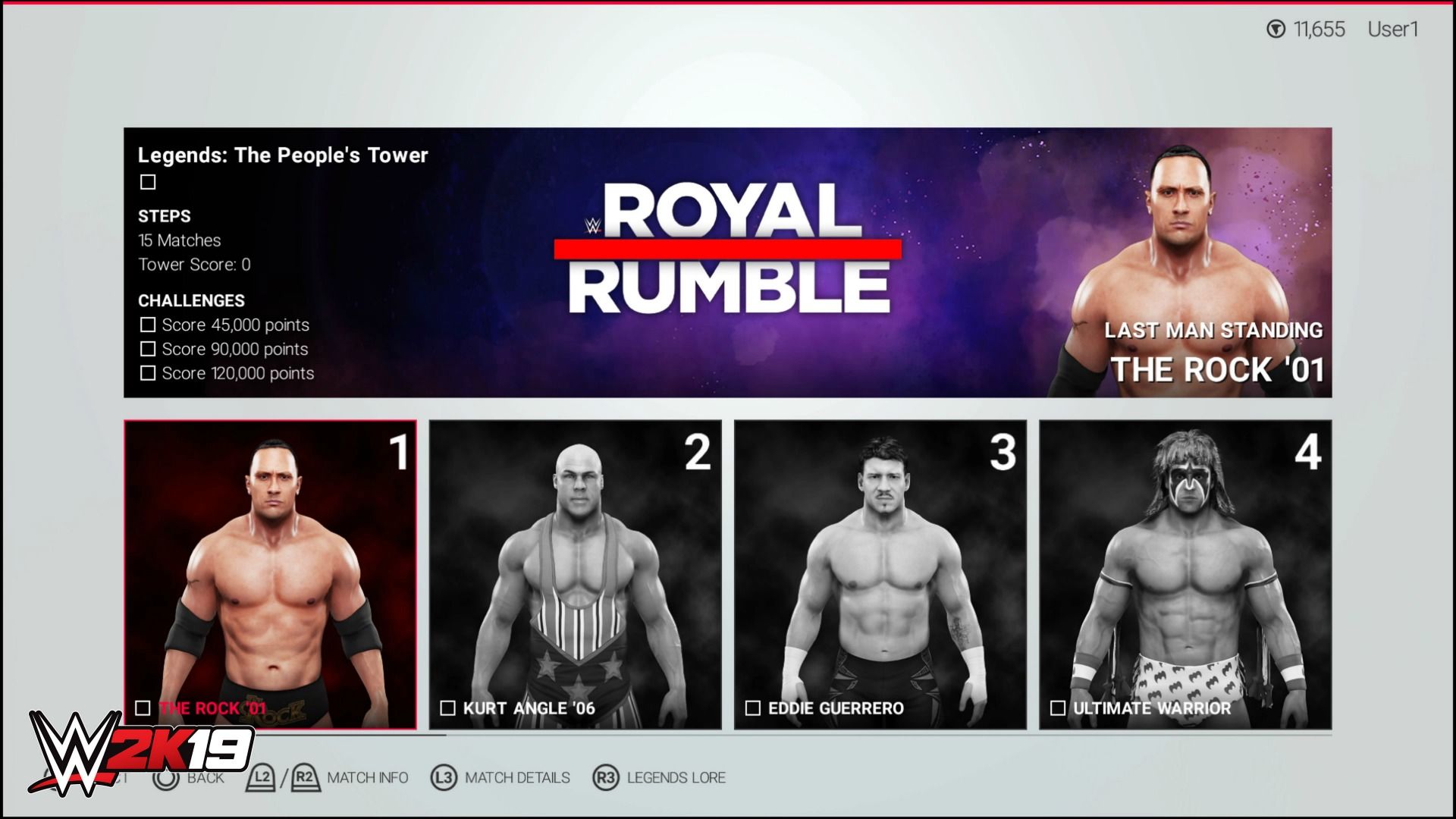 2K Towers
In 2K Towers, players choose a WWE Superstar to compete against a wide range of WWE Superstar opponents across a number challenging Towers. Each Tower has a unique theme focused on showcasing the Roster it includes or pays homage to a specific Match Type.

Legends Lore
Exclusive to 2K Towers, Legends Lore is a feature that highlights the history and accomplishments of all the undeniable WWE Legends featured in WWE 2K19.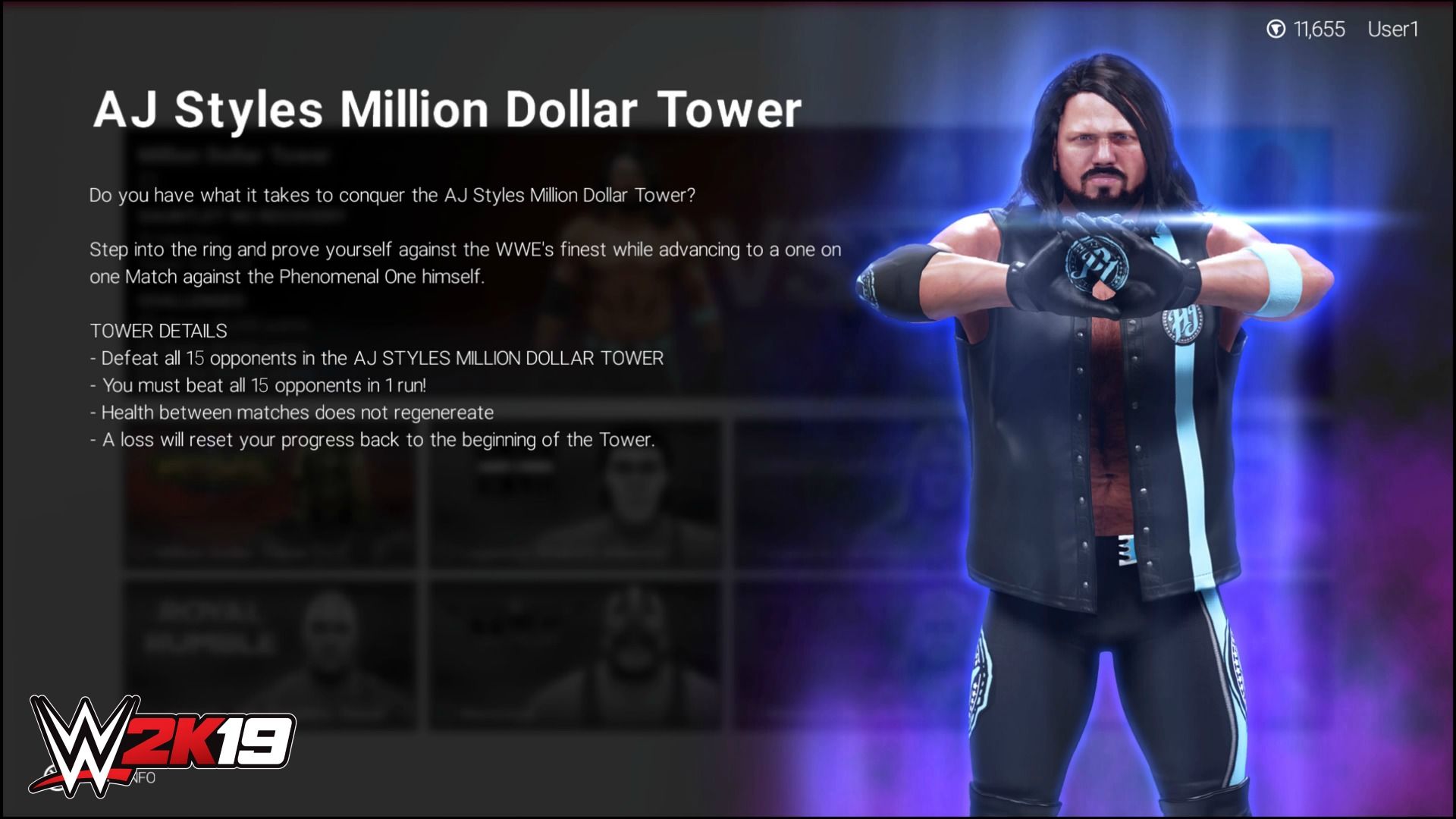 AJ Styles Million Dollar Tower
"The Phenomenal One" is featured in his own high profile Tower called the AJ Styles Million Dollar Tower. This Tower is not for the weak of heart and will take extra determination and willpower to conquer it in full. Not only are the opponents in this Tower a collection of some of WWE's finest, but they are also set at higher difficulties. Finally, a player's health does not regenerate in between matches. Those who persevere and manage to make it through this gauntlet will be rewarded handsomely.
The AJ Styles Tower is tied to the WWE 2K19 Million Dollar Challenge, which offers one of four spots in a mini-tournament to get the opportunity to face WWE Champion AJ Styles for a shot at one million dollars. The details are here – and no, PC players are not allowed to participate.
There are also the MyPLAYER Towers: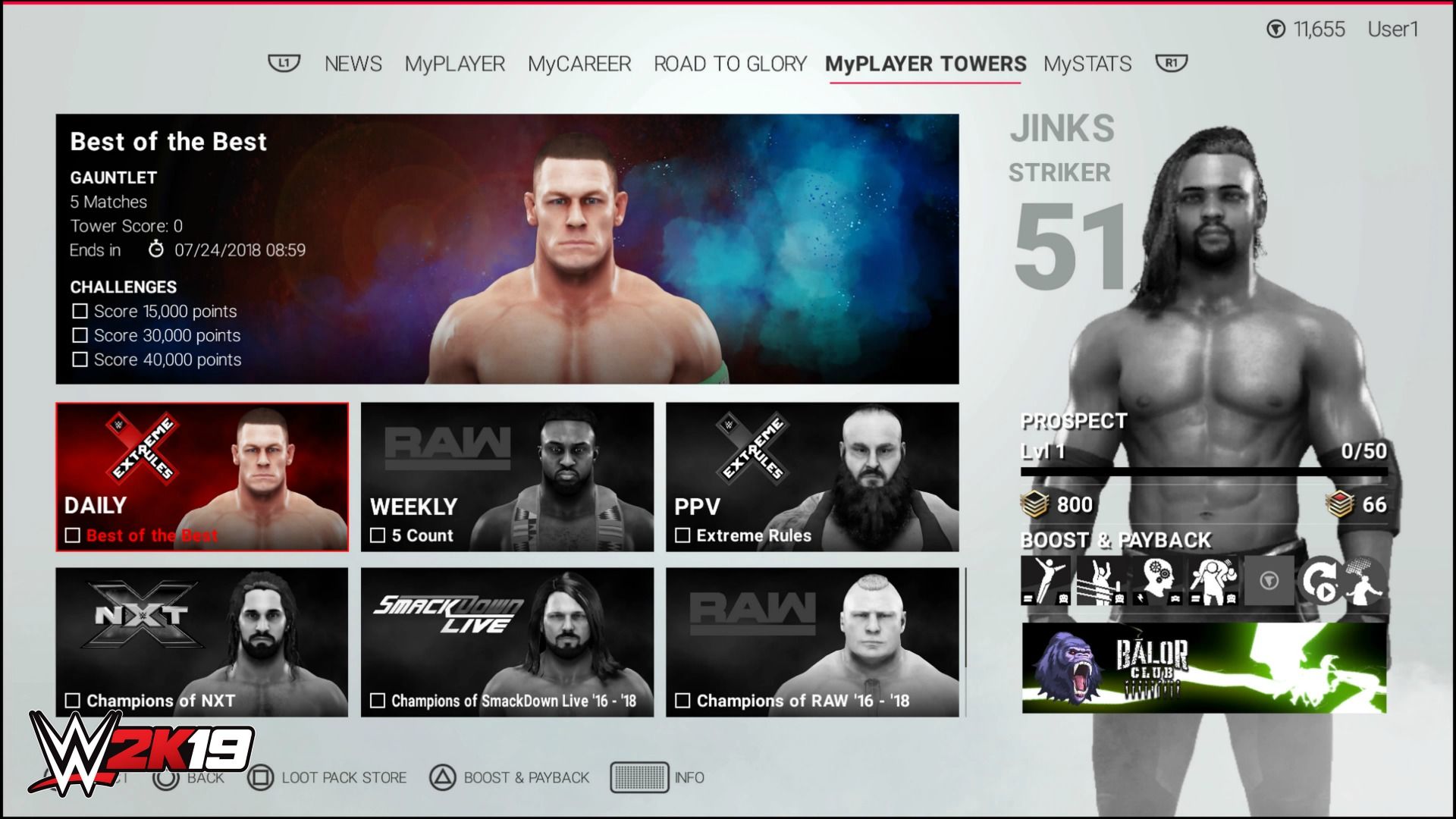 In MyPLAYER Towers, players will use their MyPLAYERs to battle through Towers crafted to challenge both new and experienced players:

In addition to a set of permanent Towers, players will find unique Daily, Weekly, and even PPV-based Towers. Every single day, a new Tower will appear for players to take on, while every week, there will be a new weekly Tower that is a bit longer than the Daily Tower, so be sure to start early. Stars earned from these Towers count toward all PPV event and Road to Glory qualifications, so it's a good idea to tackle these as often as possible. Finally, PPV Towers are active alongside WWE's PPV schedule. To qualify for these Towers, players will need to meet a specific star requirement. Completing PPV Towers will unlock exclusive Superstar Parts for MyPLAYERs.
For starters, I like the idea behind these towers. It's a decent single player mode that provides a challenge. Dare I say – the Gauntlet Towers provide an opportunity at speedrunning and challenging your best score and time for completion. I'm worried that this mode will probably be the only GOOD thing about WWE 2K19, as we're still waiting to hear about MyCAREER and Road to Glory, to see if those game modes were revamped or retooled. Also, if you notice in the screenshots, there is a Loot Pack Store. this bothers me to no end, as 2K has already had a massive issue with microtransactions in NBA 2K18, with no word on how that will be addressed in September's NBA 2K19 release as of yet. This doesn't necessarily give me any faith, but we are well over 2 months before release, and 3 weeks before the WWE 2K event in New York City during SummerSlam weekend.
Again. The idea of the towers – spectacular. The lack of additional information? Let's just say my antennae are up for this one.
WWE 2K19 releases on October 9th for Xbox One, PlayStation 4 and Windows PC. Players who pre-order the Deluxe Edition or the WWE 2K19 Wooooo! Edition will receive early access to the game on Friday, October 5 – including pre-order superstars Rey Mysterio and UFC Hall of Famer and former UFC Women's Bantamweight Champion 'Rowdy' Ronda Rousey.