Being a huge fan of the Dark Souls series, I was anticipating my chance to get my hands on Code Vein. Thankfully, I finally got my chance to check out the game at New York Comic Con 2017. And before I go any further, I did get wrecked. I only had a few chances to fight the first boss. Sadly, as soon as I got familiar with the game, I had to get off of it. While I was given a chance to play, I ended up on a session that still had some time left. Leaving me with only four minutes to play. In retrospect, I should have restarted the game.
Before I go into my impressions, I did ask about the build that was on hand at NYCC 2017. I was told that this is the same build that was shown off at the 2017 Toyko Game Show. However, there were certain tweaks that were implemented. What those were is unknown as Bandai Namco wasn't very forthcoming with those details. That said, this is also the first time the game has been playable in North America. So they may be testing some new stuff based on suggestions.
Ok, on to impressions!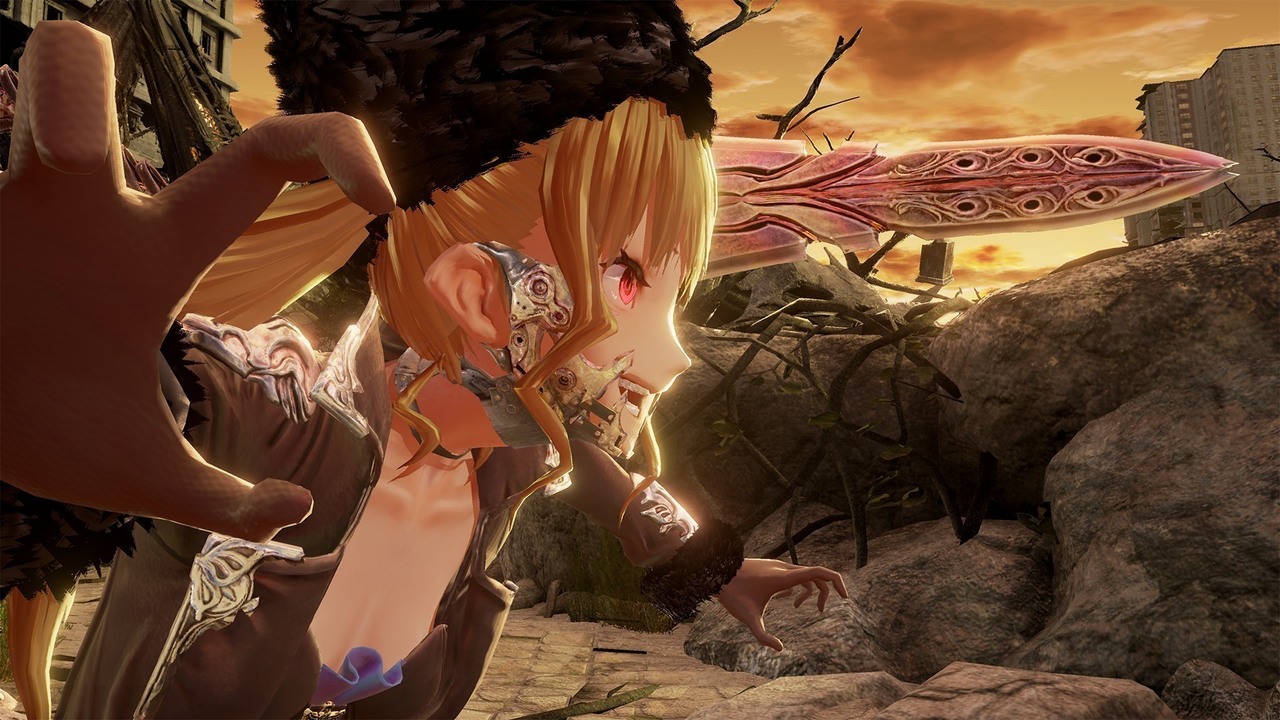 I enjoyed it, but that much was a given. I was expecting the game to be faster. What I ended up playing, was completely the opposite of what I expected. There's also a lot more RPG elements in the game. Compared to say, Dark Souls, Code Vein is overly complex. You have multiple ways of attacking – melee and ranged. You can buff yourself and your partner, even brief them back to life. You can also die during gameplay, without too much fear of starting over as your partner can revive you. With a life penalty, it's not for free. The game puts a lot of emphasis on the RPG aspect. There is a nice amount of leveling and skills progression and other systems that aren't in my favorite Action RPG title. I was assured that more info on those systems will be revealed soon.
The attack buttons also double. You have a light and heavy attack while holding down the buttons will give you a charged attack. You also can block. Oddly enough, there aren't any shields in the game, at least for now. I confirmed this when speaking to a Bandai Namco rep who was on hand to talk about the game with me. The attacks are slower than Dark Souls, Nioh, Bloodborne and even The Surge. In fact, the game, combat-wise, it felt more like Dark Souls. Attacks. Once you commit, you're committed. Which isn't necessarily a bad thing. Except for some attacks, especially the casting, can leave you completely open. I found that out the hard way. You're also able to lock-on to enemies.
This also extends to the dodging, which to me was very slow. Before I got my chance to play the game, I watched multiple people play the game. During that time I mentioned to the Bandai Namco rep that the dodge seemed slow. But it wasn't until actually got a chance to play it, I felt it for myself. Dodging is definitely very similar to Dark Souls 2. I wasn't a fan of it in that game and I wasn't really a fan of it here. There is a noticeable amount of delay when attempting to dodge. This resulted in me eating a few attacks. To be fair it could have been that I'm not used to the game – I need some more hands on. 
I wasn't sure on having an AI controlled character either. I really wanted that human component, the summons as you may. After my brief time with the game, any misconceptions I had about that was quickly removed.  They can generate aggro and pull characters off you. Helpful for giving you a moment to breathe. If you die, they can bring you back to life – assuming they get to you in time. They're extremely handy to have around and maybe a bit more reliable than a human partner.
Graphically, the game looks amazing. The graphics were sharp, with lots of pretty textures, particles, and the frame rate was smooth. I didn't get a chance to ask if this was running on the PlayStation 4, PlayStation 4 Pro or even a low-key PC with a DualShock 4 controller. It wouldn't be the first time that a company did this. I don't think this is the case, but just throwing it out there.  Oh yeah, I also mentioned that the game reminded me a lot of God Eater. Now, I don't know if this was mentioned or not, but there's a reason for that. The same team behind God Eater also worked on the art design for this title. 
After my time with the game, I spoke to a few others in line and asked what they thought. Most of the comments were in line with what I said. With several of them being fans of Dark Souls as well. So it was nice to see that we're all getting the same reception. A lot of this could change, and I really expect it to happen.
I need to get back in line sometime later on today. When I played, I was doing the boss battle only. I didn't get a chance to play through the level leading up to the boss. I feel that I need to play that, just to get a better feel of the game. Still, from what I played, I can safely that the game is shaping to be a fantastic title and a must play for me. Roll on 2018, I need me some Code Vein. 
Code Vein releases sometime in 2018 for the PlayStation 4, Xbox One and PC. The title will also be enhanced for the PlayStation 4 Pro and Xbox One X.