This year in gaming has been one of pleasant surprises. The ongoing pandemic may have slowed down development, but that hasn't stopped studios from releasing some unique 2021 titles. Indie developers have done well with some stellar smaller games. Nintendo has had a strong offering despite the Switch entering its golden years. And a few established studios have thrown their formulas to the wind and crafted games with unique premises or new twists on classic franchises. All of these and more have contributed to our games of the year.
I asked each Outerhaven contributor to share their favorite games of the year, resulting in a list of nearly 50 different titles. We explored memorable settings such as spooky castles, tropical islands, and the far reaches of space. We took on unique gameplay premises with puzzle-like boss battles and objectives. And we raced with cars big and small. Tallying up the entire list by rankings, we had a few games that clearly stood out collectively as our most beloved games of the year.
Here are The Outerhaven's top ten games of 2021:
10. Mario Party Superstars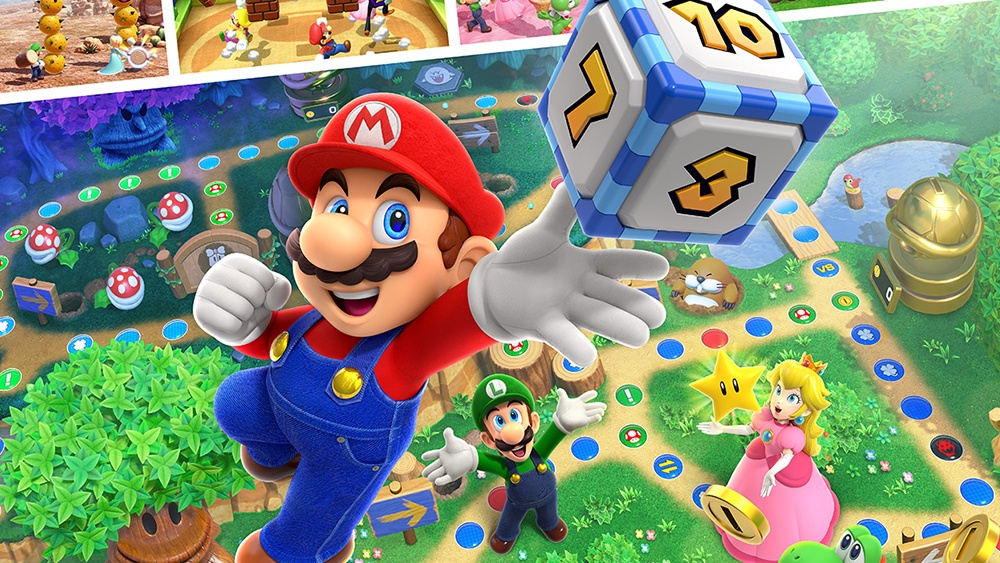 There is something about Mario Party Superstars that is nostalgic and perfect for this year. With how we are still separated due to the world situation, there is still a sense of dread and longing to reconnect. There is an old saying: "Nothing heals anxiety better than a bit of nostalgia." We all know that Nintendo is the company for nostalgia, and Mario is the face of comfort. So why not bring back the series that breaks friendships with Mario Party but for the modern age?
Bringing back the highlights of the Mario Party series from the boards to the minigames, it is the same crazy and chaotic fun that we know throughout Mario Party history. I still recall the moments of minigame antics with my friends and family. From Bumper Balls to stealing stars it is fun to just compete and leave luck to heaven. While nothing replaces the local couch multiplayer, at least now we can also play with people online and connect to other fans of the series. That feeling of playing Mario Party again for Nintendo Switch is what I believe Nintendo's game of the year should be.
-William Kok
9. Hot Wheels Unleashed
The moment I picked up the controller to play Hot Wheels Unleashed, I fought with my inner child, who wanted his turn at the game. Growing up with Hot Wheels toys, I'd take them racing on just about any surface. Much to the dismay of my parents, who would find them scattered across the floor and only realized when it was too late. With Hot Wheels Unleashed, not only do you get to race with an assorted amount of toy cars, but you get to race them around tracks that feel like they came from the mind of a 5-year old. And if that wasn't enough, you can let your inner child take over and let them build their tracks—one of the better arcade games in years. Don't be fooled by the toy cars, or you'll miss out on one hell of a racing experience.
-Keith Mitchell
8. Resident Evil Village
After what I called a disastrous attempt at an entry into the Resident Evil franchise with the seventh title, it was good to see CAPCOM listen to fans and make something that combined a lot of what makes the franchise special and original into something that is not only a great game to play but has spawned a million new cosplays. Big Mommy Milkers aside, Resident Evil Village was the return to form that the developers should have done in the first place, giving their new and fresh trilogy with Ethan Winters development while doing what Resident Evil is meant to do: Scare you to death and have you looking over your shoulders at every turn.
-Karl Smart
7. Forza Horizon 5
Forza Horizon 5 is a spectacle. There's no better word to describe it than that one right there, a spectacle. It takes everything that is loved about the series, the vistas, the driving, the world, and amps it all the way up to eleven. The opening really sets the scene for the game to come, with you driving through lakes and across mountains with huge jumps. Once you're actually into the open world of Mexico, you're faced with massive sweeping weather patterns, a world in which you can choose a direction and just drive. During my time with the game, I barely took part in any races; I just explored the beautiful world and tried to get the highest possible score by driving down mountains. The key difference between the Horizon series and the Motorsport series is that spectacle, that glorious world where you can just choose what you want to do and do it. Experiencing this game should be high on the list of any gamer, especially those with access to gamepass.
-Ryan Easby
6. Death's Door
Death's Door is genuinely an excellent gaming experience. It's the first time that you not only get to play as a crow but as a crow in a game that's influenced by such titles as The Legend of Zelda and Dark Souls. Lots of action and adventure, visually appealing, full of charm, and will keep you entertained for hours. And don't let the cute appearance fool you because this game is tough as nails yet still fun as heck.  The only thing that I didn't like about the game was that it ended.
-Keith Mitchell
5. Deathloop
2021 saw a surprising amount of game of the year contenders with the likes of Ratchet of Clank: Rift Apart, Returnal, It Takes Two, Psychonauts 2, Halo Infinite, Resident Evil Village, and so on, that it may seem strange that Deathloop has remained my number 1 game throughout the entire year.
I will admit that there are games that came out this year that had larger worlds, more to do with better combat, and more heartfelt stories but the main reason why Deathloop remains my personal game of the year is simple to me. No other game this year hooked me from the moment I started playing it until the credits rolled. I loved every second of Deathloop from the amazing characters to the phenomenal voice acting all the way to the creative ways you could take people out using abilities and the environment.
When I played Deathloop to review it, I already had high hopes as the Dishonored series ranks among some of my favourite games, and Deathloop compares to Dishonored without the game judging you for going on a rampage. It's fantastic.
-Conner Beckingsale
4. Ratchet & Clank: Rift Apart
-Tyler Kelbaugh
3. New Pokemon Snap
New Pokemon Snap isn't just a sequel that we've been waiting for since the Nintendo 64 era; it's a game that proves just how much technology can make things so much better than before. Make no mistake, New Pokemon Snap is a BEAUTIFUL game that you can get lost in as you explore the various areas full of Pokemon. With each area evolving as you level up, there's more Pokemon to find and new ways to get their photos taken. This is the game you play to not just enjoy Pokemon, but to relax as you truly wander through the Pokemon world.
-Todd Black
2. Metroid Dread
When it comes to recognizing the best games of 2021, Metroid Dread was one of my top contenders. Not because it maliciously consumed my mind and all of my time like Deathloop did. Nor did it charm its way into my heart like the ragtag group who dub themselves the Guardians of the Galaxy. Instead, Metroid Dread took me back to when the franchise was at the top of its game and didn't feel it necessary to reinvent its wheels.
Sharing its narrative to a story told back in 2002, Dread picks up where Metroid Fusion left off. After a brief retelling of those past events, Samus heads off to investigate the mysterious planet known as ZDR. There are a couple of twists that I simply didn't see coming, and its biggest reveal caught me by surprise. Metroid Dread's side-scrolling gameplay is simple, yet its unwillingness to hold your hand makes it much more challenging. In between being slapped around by the bosses, I'd get lost in the labyrinth that is ZDR. However, it's those things that make Dread so great. The game really sticks the landing with fantastic gameplay while delivering just the right amount of nostalgia and perfectly wraps up a storyline that's been in the making for more than twenty years. It absolutely deserves every ounce of praise it gets.
–Kyle Simcox
1. Marvel's Guardians of the Galaxy
-Scott Adams