Ever wondered about all the sea creatures deep, deep below in the ocean's depths? Wanted to go scuba diving but lack available funds/ability to live near a body of water? This past weekend at PAX East, we went hands on with Beyond Blue, a highly realistic take on exploring the ocean and documenting the aquatic life there. 
The game is made by E-Line Media, which a few may know as the publisher behind Never Alone, also known as Kisima Innitchuna. The puzzle game tells the story of a girl and a fox, and is based on a traditional folk tale of the Inupiaq tribe. The team partnered with the Cook Inlet Tribal Council to do justice to the story. Similarly, E-Line partnered with BBC Studios and actual scientists to ensure that Beyond Blue stays true to life.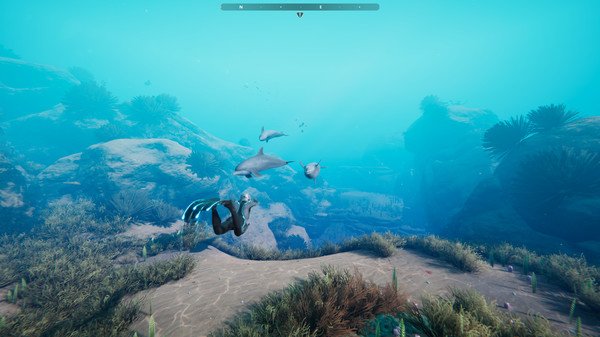 One liberty the game takes is envisioning the oceanography equipment of the future. Players use these tools as Mirai, an ocean explorer, to find and track marine life. Although this technology doesn't yet exist, I was told during my play through that it's based on technology that scientists expect to develop within the next few years. In the demo, I was tasked with searching for various underwater animals using sonar. Upon finding them I scanned them into the aquatic database, finding out the exact species I was looking at. I could interact with them as well, at one point handing aquatic foliage off to a playful dolphin. Exploring the area, based on a real-life section of the Pacific, I found various surprises including an octopus that I followed into a cave. 
The graphics are beautiful, and the sound design even more so, with calming ocean sounds along with various electronic music tracks to choose from. I was told the game also contains mini-documentaries featuring interviews with several ocean experts, providing real-world context for the game's exploration. Whenever I discovered a fish or other form of aquatic life, a 3D recreation was waiting for me in the submarine's database, to keep track of what I'd found and learned. 
Players will be able to dive into Beyond Blue starting April 2020. The game will release for PlayStation 4, Xbox One, PC, and mobile.