Today, Netherrealm Studios unveiled Mortal Kombat 11, the next installment of the gore-filled franchise that picks up where Mortal Kombat X left off. The reveal showed off some of the cast of characters which featured returning favorites along with one new character and a hint at another. The confirmed roster for the game so far is:
Scorpion
Dark Raiden
Baraka
Skarlet
Sub-Zero
Liu Kang
Sonya Blade
Shao Kahn
Geras
Gameplay Trailer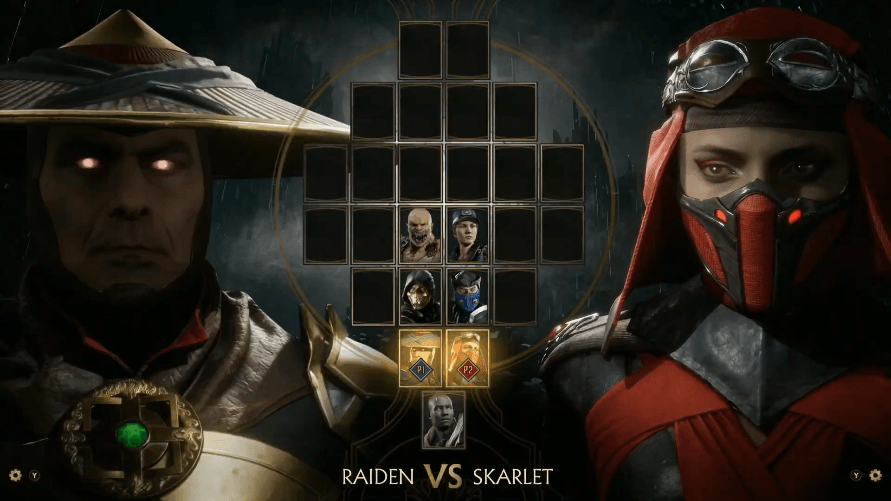 Character Select Screen
Out of that list, Geras is a brand-new character and according to his reveal video, he is a slower character in movement but is quick via his teleportation and manipulation of sand, bringing a nice combination of power and speed at the sacrifice of a faster walking speed.
Geras Revaeal
Speaking of characters, MMA Hall of Fame inductee and current WWE Raw Women's Champion "Rowdy" Ronda Rousey was revealed as the voice behind the iconic Sonya Blade!
Ronda Rousey is Sonya Blade
Of course, what would Mortal Kombat be without fatalities? While a couple of characters had their fatalities shown off in full, a highlight video confirmed that characters will have more than one fatality at their disposal. What they showed off was very similar to Mortal Kombat X's fatalities but with the new, updated graphics, the gore factor was turned up to… dare I say it… 11!
FINISH HIM!
Characters and fatalities are givens with Mortal Kombat. This time around, some gameplay changes were revealed that look to fine-tune the action on the screen. The first notable change is that you now have three meters to pay attention to: Health, Offense, and Defensive. Health is pretty self-explanatory but Offense meters and Defensive meters play a role in special moves as well as the new Flawless Block mechanic. Executing a Flawless Block will give you a window of opportunity to perform a counter on your opponent.
The health meter has two new interesting features, the first is that it displays hit points. Each character has 1,000 HP and now you can actually see how much health you have left. The second is that once a health meter hits 30%, a character will gain the Fatal Blow ability. Hitting both left and right triggers at once will cause you to perform an X-Ray-like move on your opponent but these moves go way beyond X-Rays. They're so brutal that they could be considered fatalities themselves. It's also a nice way to even up a match if you're falling behind. Ed Boon confirmed that if you miss a Fatal Blow, it will be available again after a cooldown.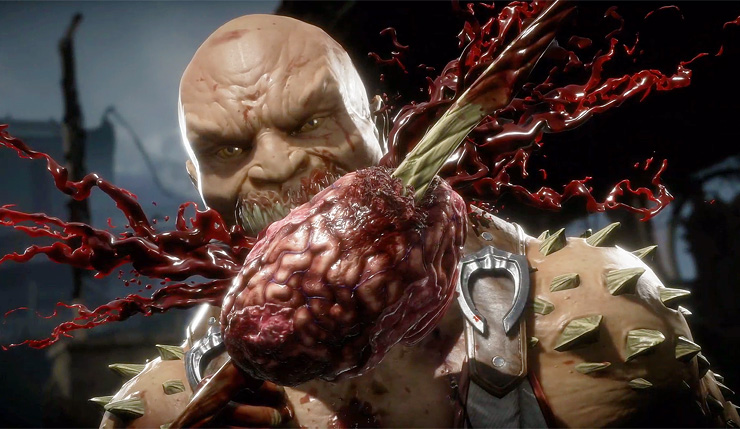 Who doesn't love brains?
Next up was character customization. You can change out different parts of the character and color palette swap their gear. This allows you to create custom looks for your characters. They hinted that you can share your creations online with other players by noting that there will be some in-game or from online players. If it wasn't a nod towards being able to download other people's creations, then it possibly meant that you could encounter more exotic looks during online mode.
Story Mode makes a return and the cinematic tells a story of Dark Raiden torturing Shinnok. After Raiden has had his fill, Kronika shows up and touts that Shinnok's work isn't done. It seems that we will be fighting against an entity that has orchestrated everything since the very first Mortal Kombat. This time travel-style story will even have us seeing older and younger versions of all our beloved characters. No word on if Kronika will be a playable character.
Story Mode Cinematic Intro
Lastly, they announced Kombat Kast is returning and the first one will be held on January 30. During the announcement, a quick zip of a character flashed across the screen, strongly hinting that Kabal from Mortal Kombat 3 will be making a return to the series! If that was Kabal (or someone else), they will be officially revealed on January 30.
You can pre-order Mortal Kombat 11 today in which there will be a Kollector's Edition which features the Mortal Kombat logo as a gold magnet, a steel case, and a life-sized Scorpion mask and hood statue. The Kollector's Edition will set you back $300, though and is only available at Gamestop. Pre-ordering any version of the game will give you Shao Kahn as a playable character and beta access which launches on March 28.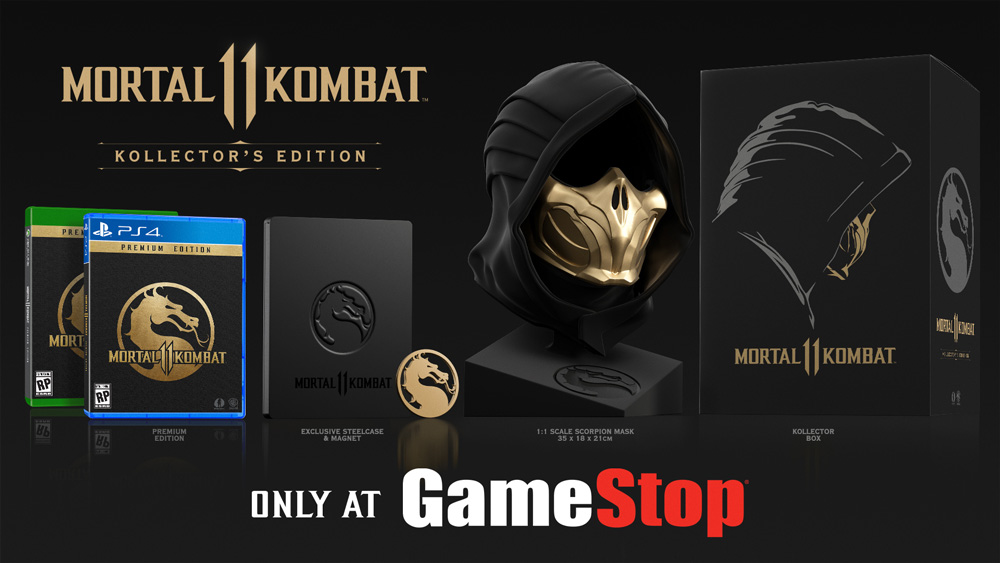 Kollector's Edition
Mortal Kombat 11 is slated for release on April 23, 2019 for Xbox One, PlayStation 4, Nintendo Switch, and PC! 
Find out more at https://www.mortalkombat.com/