I hope you're hungry
Fancy yourself a Platinum Xbox One X? Well, if so, then Taco Bell has a deal for you. All you have to do is purchase the $5 Double Chalupa Box and you'll snag yourself a code. Take that code and text that code to see if you've won.
Apparently, there are about 5000 of these sexy consoles that will be won by one (or several) lucky persons. Maybe you'll be one of them. If you happen to win, this is what you'll snag.
Xbox One X Platinum Limited Edition
Xbox Elite Wireless Controller – White Special Edition
Xbox Game Pass 3-Month membership
Xbox Live Gold 3-Month membership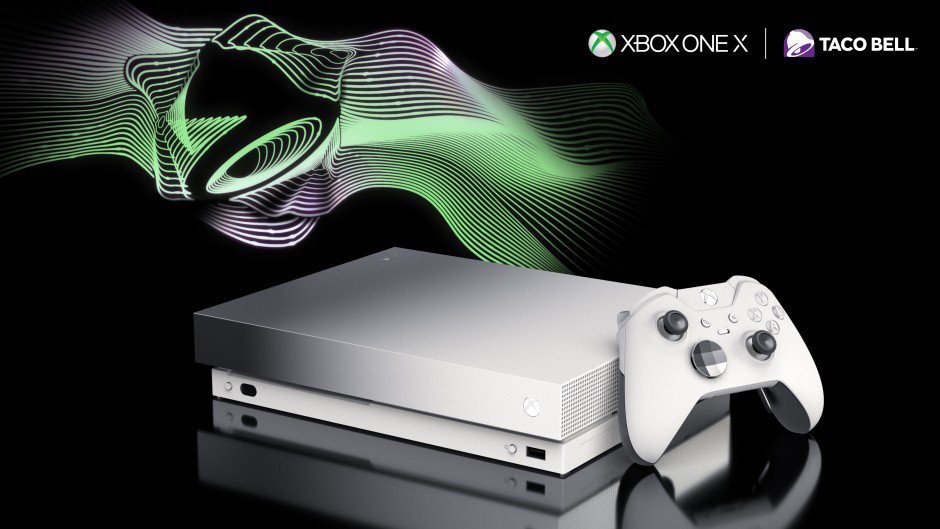 Not a bad score for just $5. Of course, there's no telling if that code you get is the winner. So you may be dropping down quite a bit of money trying to win this thing. What can you do with all that food? Well, I know random people on the street love getting random foods. Or even maybe the homeless shelter. Whatever you do, just eat it or give it away. Don't just toss it in the rubbish.
Or you could also send in some mail for a free code.
Without a Purchase (Mail-In Code Request): To obtain a Code without making a purchase from October 5, 2018 to November 12, 2018, an eligible consumer must legibly hand write his/her full name (no initials), complete street address (no P.O. Box), age, and valid e-mail address on a 3½" x 5" properly stamped postcard and mail it to: Taco Bell® and Xbox® Game Code Request, P.O. Box 251328, West Bloomfield, MI 48325. Requests sent in an envelope will not be accepted. Mail-in requests must be postmarked by November 12, 2018 and received by November 18, 2018. Administrator will send one (1) Code by e-mail to the e-mail address provided on the request. Limit thirty-two (32) total Codes per person/email address via Mail-In Code Request. Mail-in requests will not be returned and no further correspondence will be entered into. Mail-in requests must be original and hand-written. No mechanical reproductions are allowed.
Now, I'm not a fan of Taco Bell, but that system looks pretty damn badass. I think I'm going to get some Taco Bell for lunch. 
Rules for this contest can be found here. Sadly, this is limited to the US, so our overseas friends won't be able to get in on the action. Good luck and try not to make yourself sick by eating too many tacos.