NBA 2K (and WWE 2K) have had their fair share of playlist curators – LeBron James, Michael B. Jordan, Jay-Z, DJ Premier, DJ Khaled, Diddy, John Cena, Dwayne Johnson, Grimes, amongst others. 2K Sports tends to go with some of the hottest artists and celebrities of the time to curate the soundtracks for their games. This doesn't change with the curator of NBA 2K19's soundtrack, rapper Travis Scott.
Interviewed by LeBron James, Travis Scott spoke about how the Astroworld project came about, as well as the curating process and being scanned into the game. 2K provided an infographic highlighting some of the songs in the soundtrack, which includes artists such as A$AP Ferg, Bruno Mars and Cardi B, Dilated Peoples, PRhyme (DJ Premier and Royce Da 5'9″,) Bishop Nehru, Mike Jones, and Travis Scott himself.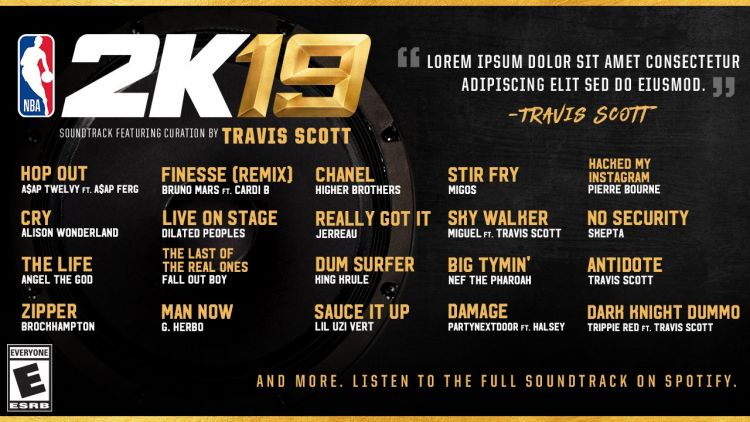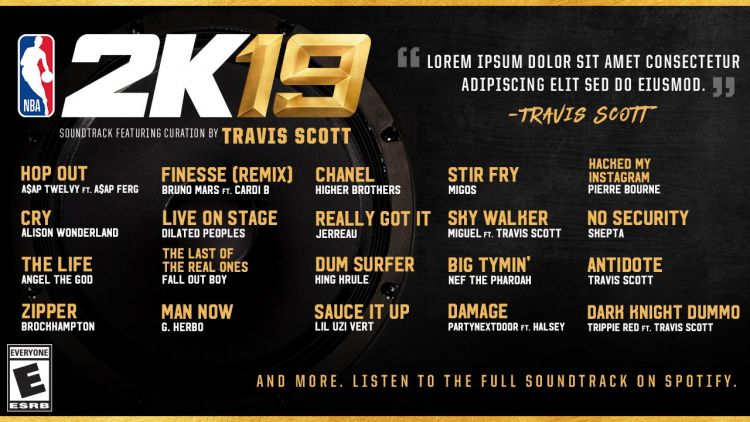 2K Sports has made the complete soundtrack available on Spotify, which you can find below:
On a personal note, I typically don't leave the full soundtrack on as of late, because I'm not a fan of all the music, but damn, I think this is the NBA 2K where I leave the most music available. Between Dilated Peoples, Bruno Mars and Cardi B, Bishop Nehru, A$AP Ferg (who turned me into a fan with this song) and PRhyme, I'm gonna have some fun times ballin' out in NBA 2K19 this year…if the game isn't a microtransaction fest like last year.
NBA 2K19 releases on Xbox One, PlayStation 4 and PC via Steam on September 10. There is currently no date for the Nintendo Switch release, but it is currently in the works.