Pokemon for the Nintendo Switch likely to be announced in May 2018
As stated at E3 2017 Nintendo revealed that there will be a Pokemon game coming to the Switch sometime in 2018. The only confirmed information we have gotten so far there have been plenty of rumors and potential leaks. Here are few that have caused sparked some interest in the past few days.
Serebii.net
Highly praised and regarded as one of the best sources for Pokemon, Serebii.net has released a tweet stating the following:
TV Tokyo's website for Oha Suta's episode on Thursday has removed the description of "Shocking Pokémon news which starts a new story" and has replaced it with "Full of Pokémon Information"
This was potentially a human error made when making the original description.
Emily Rogers
Emily Rogers is a gaming journalist with a decent track record for the Nintendo Switch. Although it is not confirmed that she has a source working at Nintendo, it has become apparent due to her accuracy in her reports. On May 26 Rogers stated that a Pokemon Nintendo Switch announcement was still on track before the end of May and as far as she knows, nothing has been changed. As May counts down its last remaining days time will tell if this information stays accurate.
Pixelpar
A tweet from the Pixelpar account reports that different Nintendo YouTube accounts have been privatizing videos. The videos privatized are a Sun and Moon date announcement video and an Omega Ruby and Alpha Sapphire Accolades Trailer. The reason is if Pokemon potential news is announced they will share the search results making it easier to search for newer material.
Pixelpar has also reported that Amazon Germany has removed their Pokemon Switch pre-order placeholder. The link to the tweet can be found: HERE
Build-A-Bear
An unexpected source for Pokemon information Build-A-Bear has recently announced Jigglypuff to their new line of plush. A tweet from the Build-A-Bear twitter account reported this: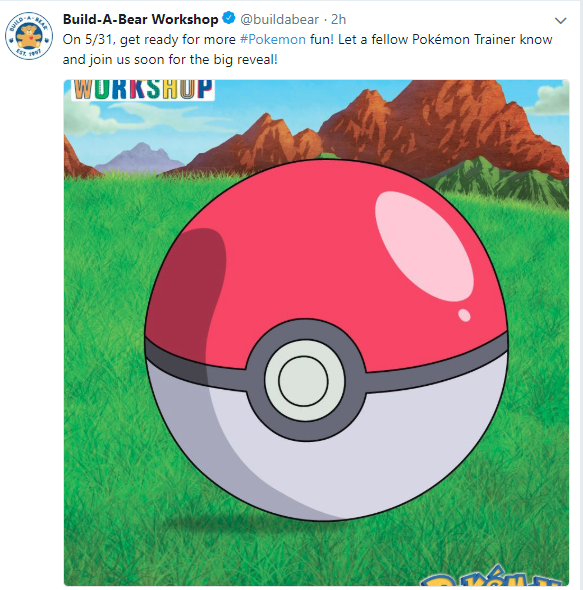 This could likely just be a new announcement for a new plush, but since it isn't actually confirmed what it will be I have included it here.
Stay tuned Pokemon Fans as the next couple days will tell if we get Pokemon News or we will have to wait for E3.