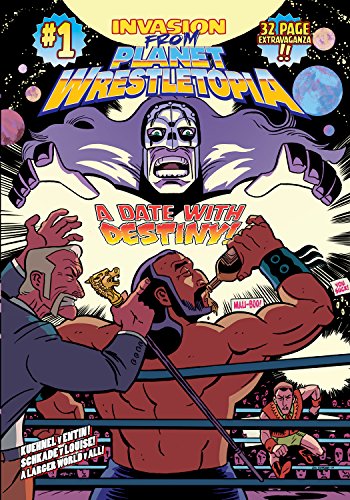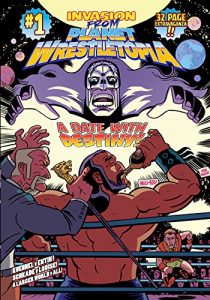 Title: Invasion from Planet Wrestletopia Issue #1
Author: Ed Kuehnel/Matt Entin (Story), Dan Schkade (Art), Marissa Louise (Color)
Publisher: Suspicious Behavior Productions, LLC
Language: English
Format: Digital
Pages: 32
Genre: Sci-Fi, Wrestling
Publication Date: August 6, 2017
The Story
The story follows a professional wrestler by the name of "Rock N' Roll" Rory Landell who is booked to wrestle in a title match against the AWF Champion "Boy Scout" Bob Schultz at the Summer Slam-A-Bration Pay-Per-View event. Landell is booked to win the championship but is notified at the last moment that he will be doing the job instead due to the event drawing its biggest gate in history. This didn't sit too well with Landell and he lets his ego get in the way of business.
When it's time to cut his promo for the match, he grabs a pizza box with the word "Galaxy" written on it and straps it to his waist, declaring himself the Champion of the Galaxy before walking out on the promotion. The sci-fi twist comes when his televised interview zips through space and gets picked up by an alien race who just happen to be professional wrestlers… one of which is the actual Champion of the Galaxy. I'm sure you can see where this is headed!
This story had a LOT of personality to it thanks to its characters, but the story itself, while "out there" (pun intended) was very enjoyable from beginning to end. This reminded me a lot of WWE's Southpaw Regional Wrestling, but with a TV-MA twist to it.
Characters
"Rock N' Roll" Rory Landell was an amazing character both in front of and behind the "camera." He played that classic 80's heel persona and you can sense it with the swagger in his talk. Behind the camera, he's one of the people who is a mark for his own persona. He believes he's the best thing going today and his ego gets severely bruised when he's told he has to do the job after being promised the championship. In a moment that could be reminiscent of something a younger Shawn Michaels would do (or an older Shawn Michaels in a certain match with Hulk Hogan), he took some liberties with his character to put himself over knowing full well that he was going to be laying down for the three. Rory was an incredibly fun character to read and it'll be interesting to see what kind of further trouble his mouth will get him into.
Rory's friend Don, who is a Hawaiian playing a Chinese character named Sneaky Chineeman (who's tag team partner used to be a man named Swamp Gas Charlie), seems like the level-headed voice of reason. He even walks out of the promotion with him and over the course of the next fifteen years, sticks by Rory's side on his post-AWF journey.
Outside of Rory and Don, there were only a handful of characters that played the supporting role to move the story forward. Each of them played their part well and really enhanced the story when needed, which is what great supporting characters are supposed to do. While they each had a minor role, they all felt important and detrimental!
Final Thoughts
Invasion from Planet Wrestletopia takes us back to a simpler time when wrestling wasn't overrun by internet smarks and keyboard warriors. It took us back to a time when territories operated independently. It was like stepping back into the 80's all over again and all of the tropes you would expect to see back then were echoed very well in this first issue. Hell, they even had a wrestling match with a bear… A BEAR!
The sci-fi twist was over-the-top but in a good way. Much like the comic echoed the era of 80's wrestling, the twist itself echoed that of classic comics from the same era. This entire issue felt like a blast to the past and it was one highly enjoyable read from beginning to end! If you're a fan of professional wrestling and want something different that will entertain the old kid in you, this is a must read!
If you are interested, check out Suspicious Behavior Productions at the following links below:
Website: http://www.suspiciousbehaviorproductions.com
Tumblr: http://suspiciousbehaviorproductions.tumblr.com
Twitter: http://www.twitter.com/sbp_comics
Facebook: http://www.facebook.com/suspiciousbehavior
You can also check out other The Outerhaven reviews on your favorite social media networks:
Subscribe to us on Twitter: https://twitter.com/theouterhaven
Subscribe to us on Facebook: https://www.facebook.com/TheOuterHaven
Subscribe to us on Youtube: http://www.youtube.com/theouterhavennet
This item was provided for review by Suspicious Behavior Productions