LucidSound announced today that they will be introducing the second of their official Xbox accessories, the LS15X In-Ear Gaming Headset.
The LS15X, comes in a similar design to the LG Tone Pro in design and function. The LS15X is designed to sit on the shoulders and neck, extremely lightweight and barely noticeable to the gamer making it a great solution for gamers who wear glasses or earrings. While this is stock for any headset for gamers these days with the way cushions work; but where the LS15X stands out is in it's speaker designs, using Integrated stereo speakers can be used in lieu of the standard earbuds that you would expect in this style of product. Communication is handled with an advanced digital microphone that has been engineered for clear and reliable voice communications while blocking out ambient audio to teammates.
In addition, the earbuds are 'Surround Sound Ready' with Windows Sonic for Headphones, as well as Dolby Atmos for Headphones providing optional surround sound to the player. Rechargeable lithium-ion battery provides ample gaming per charge.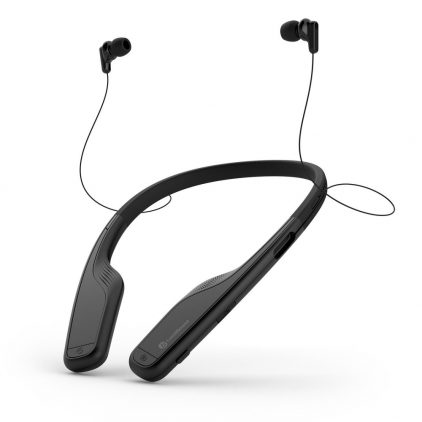 "LucidSound is designing and engineering new audio products for this generation of gaming…In May of this year, we announced the world's first headset to connect directly to Xbox One consoles and it means a lot to us to hear the positive reaction from the Xbox community. With the LS15X, we're raising the bar, offering an entirely new concept in gaming audio which we feel will be a generational leap forward for Xbox gamers everywhere." Chris Von Huben, CEO of LucidSound.
The LS15X connects directly to Xbox One consoles, with no cables and no base station as the LS15X features the same Xbox Wireless technology as the Xbox Wireless Controller, automatically configuring for hassle-free setup and providing continuous compatibility across the Xbox One family of devices, which includes Xbox One, Xbox One S and the upcoming Project Scorpio. Windows 10 users can connect the LS15X directly to new PCs that include built-in Xbox Wireless technology or by using the Xbox Wireless Adapter for Windows.
LucidSound is going to be at E3 2017 as will members of The Outerhaven. You can view all of the coverage The Outerhaven will bring from the E3 2017 show floor by watching this link. For more information on the LS15X, visit lucidsound.com and follow LucidSound on Facebook, Twitter, and Instagram.