This week, Bandai-Namco Entertainment America release new details about characters and gameplay in Digimon Cyber Sleuths: Hacker's Memory. Keisuke Amazawa, about whom I wrote in the last preview, will enlist the aid of Erika Mishima. Erika is also a hacker, but unlike our hero, she has the ability to link her brain directly to the server of EDEN (a "next-gen web service", according to the release) to hack into the network. Hopefully, she'll be able use her powers to help exonerate Keisuke.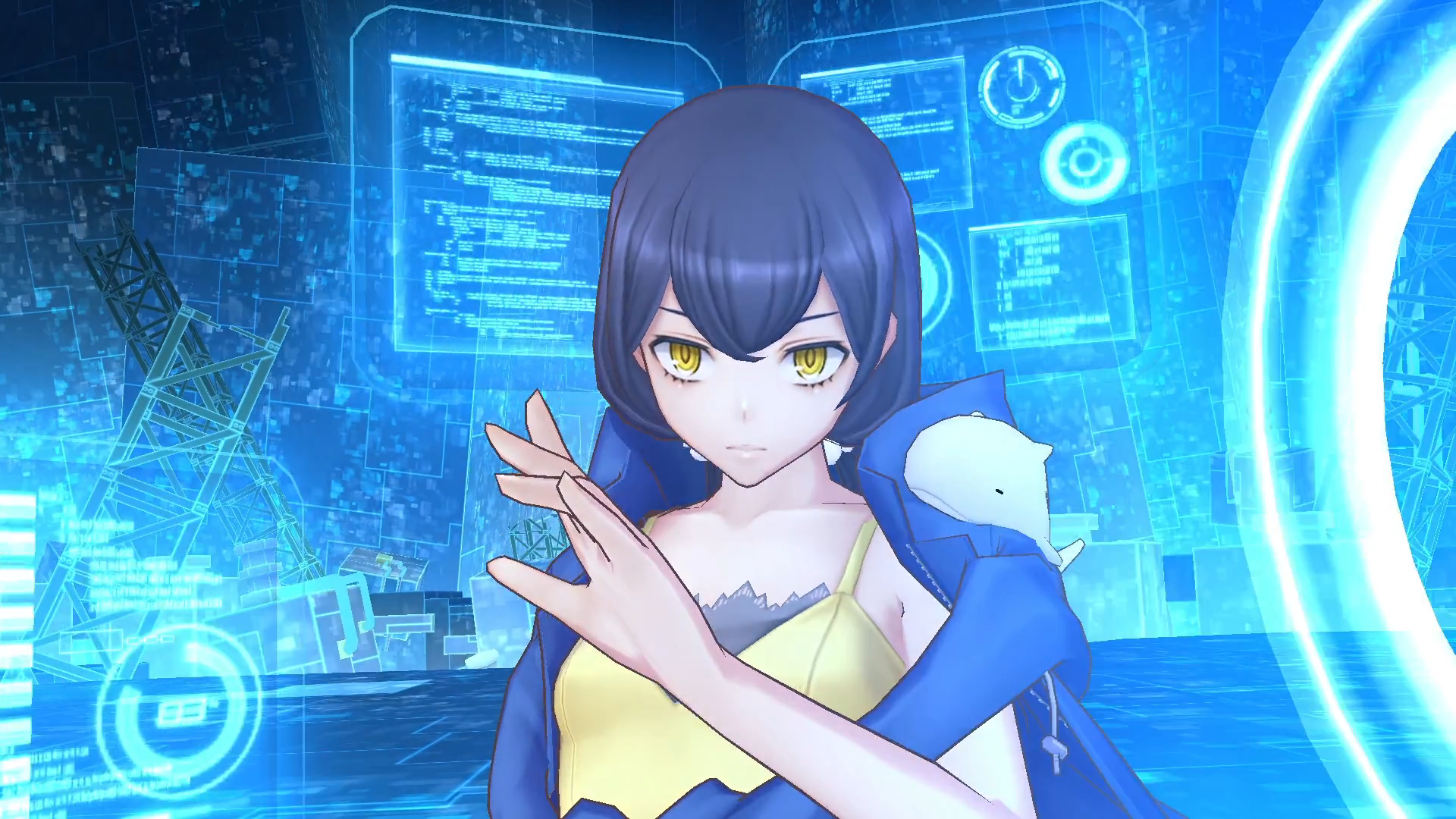 Erika Mishima, a brilliant hacker.
Details about a villain have also been released. Fei appears smug, and is described by Bandi-Namco as someone who enjoys ruining the lives of others. She works in the upper ranks of a hacker group called Zaxon. Human villains in previous Digimon installments have sought to control the Digital World, or to destroy it. It remains to be seen what Fei's motivation is. I already dislike her for trying to mop an iconic hairstyle. I'm calling you out, Fei.
The user interface for battle looks similar to other turn-based JPRGs. The stylized neon text is well-integrated with the environment. This makes the text less distracting, so the player can focus on those sleek Digimon renders. I'm impressed by the way that the lighting in the screenshot below is applied to all the monsters on the screen. Digimon characters don't have a series-wide color palette, so they can look artistically inconsistent in a lineup. Environmental lighting adds a slight blue tone that makes the models look more like a set.
I'm waiting with bated breath to see what details about Digimon Cyber Sleuths: Hacker's Memory will be released next. I can only hope that Bandai-Namco will honor this humble request: Please, no Gekomon. I'll have my earplugs ready just in case.