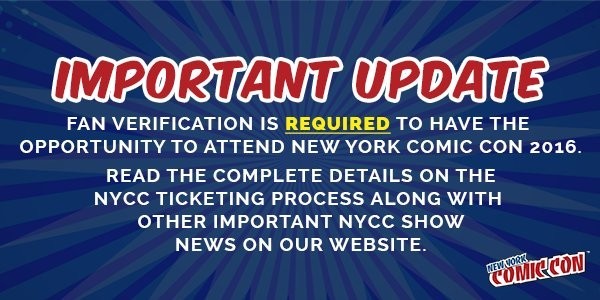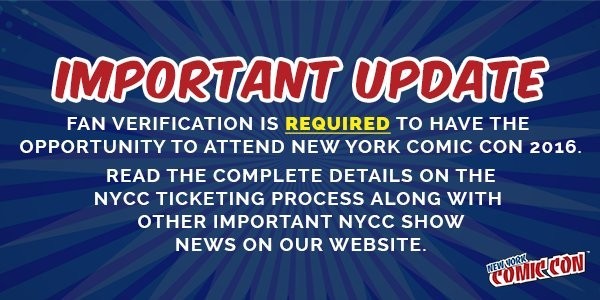 This is just a friendly reminder that the NYCC 2016  for the upcoming 2016 New York Comic Con will start today. Make sure you're able to access the website via computer, mobile device or whatever it is that you use to browse the internet.
The registration starts today at 12PM EST and will run up until June 13, 2016. So if you can't get to it today, just be sure to get it done prior to the cut-off date. And while the link has been released just yet, I wanted to be sure that everyone, including our readers, make sure they don't miss out.
Update: Fan Verification link is now live. Click here to proceed.
Hello! We'll post a link tomorrow at 12:00 PM EDT. There is no rush – you have from 5/20 to 6/13 to sign up. #NYCC https://t.co/wyYXK7SzaR

— New York Comic Con (@NY_Comic_Con) May 20, 2016
If you don't, you won't be able to buy or be gifted tickets for New York Comic Con 2016. 
| | |
| --- | --- |
| 1. | Fan Verification is required for NYCC 2016. Everyone who would like to attend NYCC (whether you are buying Tickets yourself or someone is buying them for you) must fill out a Fan Verification profile. |
| 2. | Kids who will be ages 6-12 at the time of NYCC 2016 and will be using a NYCC 2016 Adult Ticket or Sunday Kids Ticket do not need a Fan Verification profile for their NYCC 2016 Ticket. |
| 3. | Fan Verification will be open from Friday, May 20 at 12:00 PM EDT to Monday, June 13 at 11:59 PM EDT. Fill out your Fan Verification profile correctly and completely – there's no need to rush through it. |
| 4. | All NYCC 2016 Ticket Types will go on sale at the same time on a first-come, first-served basis. Fan Verification does not guarantee NYCC Tickets. |
| 5. | We will no longer be selling VIP Tickets for NYCC. |
| 6. | NYCC 2016 Tickets will only be sold online. NYCC Tickets will not be on sale at retailers or any events leading up to NYCC 2016. |
| 7. | All Fans who filled out a Fan Verification profile will be notified via email 48 hours prior to NYCC Tickets going on sale. |
| 8. | The email you receive with the NYCC on-sale date will include a unique link where you will have the opportunity to purchase Tickets first-come, first-served when they go on sale. There is a one transaction limit per link. |
| 9. | If you are purchasing Tickets for you and your friends or family, you must assign each individual Ticket to a person using the name and email address they created their Fan Verification profile with. If you are purchasing a Ticket for a kid ages 6-12, you will add their name and age to the Ticket. |
For more info on this process, please head on over to the Newyorkcomiccon website. And if you haven't seen it before, be sure to check out our coverage of New York Comic Con 2016 here.
#Dontforgettoregister