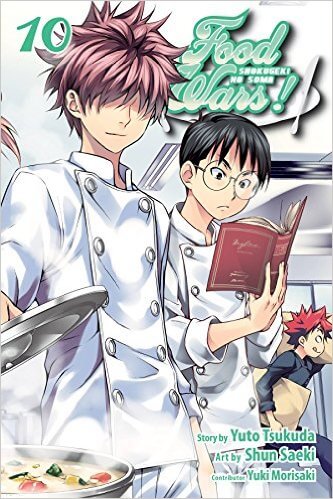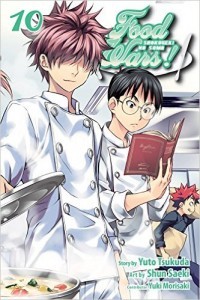 Title: Food Wars Volume 10

Author: Yuto Tsukuda
Publisher: Viz Media
Language: English
Format: Paperback

Page count: 192

Genre: Shonen
Publication Date: February 2, 2016

Food Wars volume 10 picks up right in the middle of the Fall Classic and concludes the epic burger saga. The first half of this volume focuses on Takumi Aldini, Soma's Italian rival. He is the next up in the Fall Classic lineup facing off against none other than the smug Subaru Mimasaka readers met in volume 9. As it turns out, Mimasaka is a horrible chef but a master copy-cat who takes his mimicking to the next level.  When the match becomes an official Shokugeki, Aldini puts the pride of his family on the line to show his determination to beat Subaru. Unfortunately, Subaru has other plans for Aldini and already mapped everything out.
Final Word:
Although this volume wasn't fast-paced, it really didn't need to be because the tension between Aldini and Mimasaka is incredibly thick. We also have the opportunity, as readers, to become intimate with two characters we didn't know nearly as well before this volume. Thanks to Subaru Mimasaka's creeping, a wealth of information about Aldini's cooking style, personality, and family history are revealed. We also learn a good amount about Subaru himself through his methods to stalk and torment his targets. Unlike previous rivals in this series, Subaru is unique in that he doesn't have his own style. His involvement in the story line really shakes things up and makes the shokugekis unpredictable because now it truly is hard to tell who is going to win. He breathes fresh life into a series that was beginning to feel a little stale.
For the most part, Soma takes a spot on the back burner in this volume but when he does come back into the limelight, his re-introduction as the focus character is hotly-anticipated. The author did an amazing job building up to a climax in this volume, only to take us on another roller-coaster ride immediately.  I can't believe I have to wait until volume 11 to find out what happens next.
How much did you really like this? Would you continue reading the series? Should readers buy it?
You can also check out other The Outerhaven reviews on your favorite social media networks:
Subscribe to us on Twitter: https://twitter.com/theouterhaven
Subscribe to us on Facebook: https://www.facebook.com/TheOuterHaven
Subscribe to us on Youtube: http://www.youtube.com/theouterhavennet
**This item was provided for review.