Going into E3 2015, PDP broke the news that they would have the first wireless headset for the Xbox One, one that is officially licensed by Microsoft and allows for up to 40 feet for uninterrupted gameplay thanks to a USB receiver. It is the first headset of it's kind for the system and just for $99.99 it definitely sounded appealing. It's especially great for those late night sessions when I can't pump up the surround sound due to the family sleeping unless I want to upset the master (IE: wife) and sit in the dog house for the remainder of the night.
So when PDP asked if I wanted to try them out, of course I jumped at the chance to see how the AG7 fared. So how exactly did it fare you ask? 
Update: PDP has released a firmware update that addresses the issues with the microphone, as I identified below. You can get the new firmware here.
Platform(s):  Xbox One
Manufacturer(s): Performance Design Products (PDP)
Release Date: July 7, 2015
Price: $99.99 USD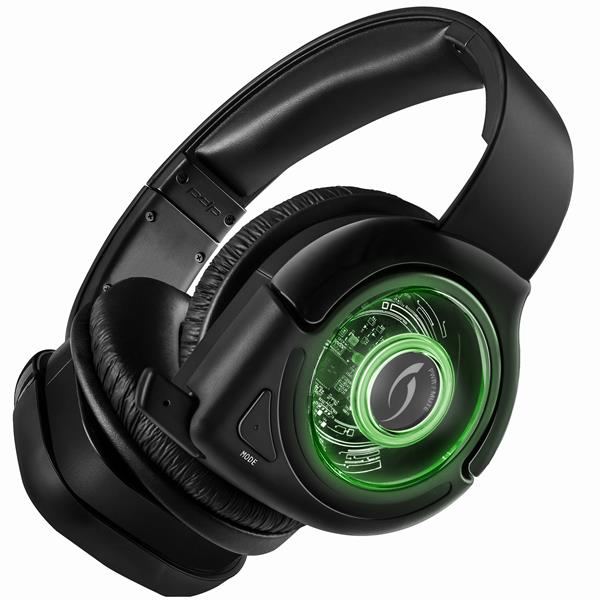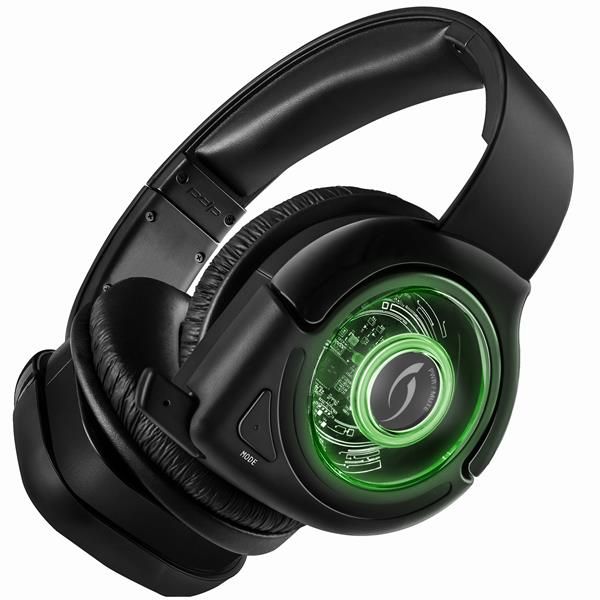 Let's get to the features
While PDP put out their first wireless headset for the Xbox One last year, the Afterglow Karga, this differs from that unit due to how it connects to the system. Instead of being connected directly to the Xbox One controller, the AG7 instead features a USB transceiver that is inserted into the Xbox One's many USB slots. This makes it a true wireless headset, hence the name, ;however, there is one downside to that depending on where your Xbox One resides. If you have it in a enclosed space like inside of an TV stand, then you may not be able to use the USB transceiver on the side as it sticks out about 2 inches, which leaves you connecting it to the Xbox One. Not a deal breaker of any sort if you a lot of extra space around the system.
The AG7 True Wireless Headset features several options: a master control volume, a secondary control volume to change the volume between chatting or in game, a power / mute button (hold to power off, press to mute), retractable and flexible microphone, mode button that switches the headset between bass boost, pure audio and to switch on/off the LED, 3.5mm port for connecting the headset to other devices, micro usb charging port and finally a mode indication LED which is housed on the microphone and lets you know if you're paired or not. The headset is also powered by two 50mm Neodymium drivers (speakers), which provide a decent sound experience, keep reading to find out more about that. And as you can see, the headphones are an over the head design, which may or may not be a favorite for everyone, but for me that's just fine. The only complaint I have is the volume adjust knobs are smooth and don't have any indication if you're actually touching them or not.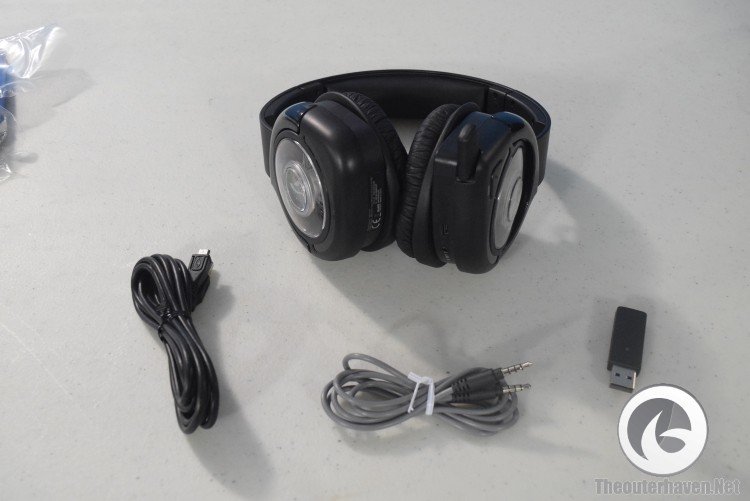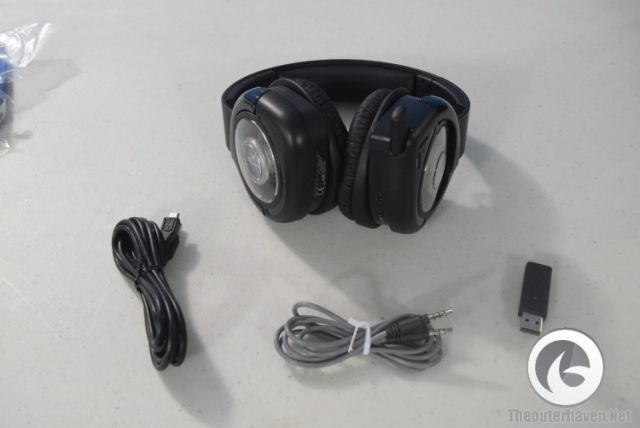 On the USB transceiver is a status LED which lets you know if it's paired with the headset or not and a pair pin-hole that will allow you to re-sync the transceiver and headset if for some reason they become disconnected. By the default the devices are synced.
Included in the AG7 True Wireless Headset package  are the following:
The AG7 True Wireless Headset
USB Transceiver
USB Charging Cable
3.5mm Audio Cable
Instruction Manual
Great performance for the price
The headset is definitely comfortable and from my testing did not cause any discomfort. In fact after using it for after an hour I completely forgot that it was on my head and I even walked over to my A/V before ending my gaming session to turn it off only to remember that the headset was on my head. I literally walked around the entire house before someone mentioned that I still had the headset on. It wasn't too heavy nor did it squeeze my ears like other headsets had in the past. As a gaming headset under $100 dollars, I have to say that I'm pleased with the sound that was produced. Decent highs and lows, while the bass was just enough to make me feel it while not overpowering the rest of the sounds from the headset. It wasn't on par with a decent sub-woofer could produce, but for the price, I was more than happy with it after playing several gaming sessions as well as listening to some soundtracks and albums that I knew had a lot of bass, which the headset handled like a champ. Those Neodymium drivers are putting in some work, that's for sure. I also didn't notice any latency during my gaming sessions and if there was any  latency it was an extremely short delay. Games tested were Killer Instinct, Forza Motorsport 5, Forza Horizon 2 and Titanfall.
One important item to point out here and I know many gamers will more than likely ask about it and that's if this headset supports surround sound (5.1 / 7.1). The answer is no folks. This is a stereo headset so there is no Dolby Digital or DTS to be found here, considering the price that's to be expected. If you're looking for a Wireless PDP headset that does support surround sound then you may want to check out the Afterglow Dolby 5.1 Surround Sound Wireless headset which can be found here. And while the the AG7 does not support surround sound that doesn't take away from the fact that this is a quality headset that will provide a good sound environment.
Continuing on with the sounds, I was a little disappointed with the microphone. While it was retractable, it wasn't long enough to reach to the front of my mic and I felt at times when chatting in a game or using Skype that I had to talk a bit louder for people to hear me. Then at other times people kept complaining that they could hear other sounds outside of me talking via the microphone, which caused me to mute on and off to speak during certain game sessions. I also found that the microphone would also tend to cause static for no apparent reason, which came and went at times.  Not a deal breaker for those who don't use their microphone much, however for those who play online and a microphone is a big necessity, this may be something to consider when looking at this headset.
PDP claims that the headset has a 40 ft range; however, I found that once I walked about 25ft away from my Xbox One that I lost the signal and wasn't able to get it back until I was in front of the unit. When I walked upstairs and entered a room that was above where my Xbox One is housed , I was able to regain the signal. I can't tell if it was due to plugging the USB transceiver in the back or fact that my Xbox One is in my game room which is located in a basement surround by think concrete walls, either way I didn't get 40ft out of the headset.  On the battery front, I counted about 13 hours of usage, while that is 2 hours off of what PDP claims, I can't state that someone else didn't play around with the headset and Xbox One when I wasn't around. Even still, getting 13 hours of battery life is pretty damned good for a wireless headset for under $100 USD.
The headset is actually pretty sturdy and a nice bit of weight to them, they don't feel flimsy at all and that's a good thing. I've had headsets in the past where I've taken them off and toss them onto a couch, only to have them crack or completely fall about on me. That's not to say that the AG7 won't break if you toss it hard enough (I don't recommend doing that either) as anything will break if you toss or throw it hard enough.
*review sample produced by PDP
PDP AG7 True Wireless Headset for Xbox One
Who says $100 doesn't get you much these days?
All in all, I'm pleased with the performance of PDP's AG7 True Wireless Headset, especially at its sub $100 price point. Thanks to the value of the headset, it should be on the top of everyone's gaming list once they are released into retail. Big on features as well as sporting a set of 50mm Neodymium speakers, this is well worth it. While it isn't the best Xbox One headset, it's definitely the best bang for buck and that's acceptable in book.
Pros:
Does a good job of blocking out noise
Headset is extremely comfortable
Retractable microphone works well
Decent battery life
Solid construction, not flimsy
Cons:
Was not able to use for more than 25 ft instead of the advertised 40 ft
The microphone tended to pick up sounds out side of my ear shot