The 2015 Evolution Championship starts today, but you may also know it as EVO 2015, which takes place in Las Vegas, Nevada throughout the weekend. Here you'll find some if not most of some of the brightest and best fighting game players from across the world, players who've flocked to this event to compete for fame, prizes, money and yes friends, even a golden Mad Catz joystick.
If you're a fan of fighting games or just have a fleeting fancy in them, then you don't want to miss out on the festivities this weekend. 
The event will officially started today at 8 AM PDT / 11 AM EDT, which will continue on until July 19, 2015. And if you weren't able to make the trip out to the event, no worries as there are plenty of personalities and streams you can watch, so you don't miss out. Tons of games to be played here, from Ultra Street Fighter 4 to Tekken 7 and much more.
Full stream schedule posted below, so you don't miss out on any action.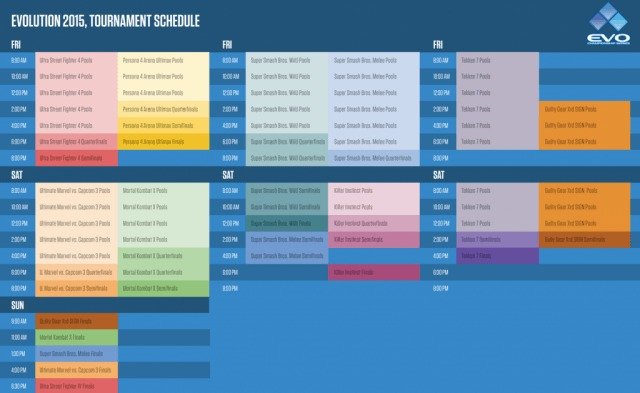 http://www.twitch.tv/capcomfighters – (8AM – 6PM) Ulta Street Fighter 4 (Pools), (8PM) Ultra Street Fighter 4 (Semifinals)
http://www.twitch.tv/srkevo1 (Main Stage) – Friday (8AM -4PM) Ultra Street Fighter 4 (Pools), (6PM) Persona 4 Arena Ultimax (Finals),(8PM) Ultra Street Fighter 4 (Semifinals), Saturday (8AM – 2PM) Smash Bros. For Wii U (Semifinals / Finals), (4PM) Tekken 7 (Finals), (6PM) Killer Instinct (Finals), (8PM) Mortal Kombat X (Semifinals), Sunday (9AM) Guilty Gear Xrd SIGN (Finals), (11AM) Mortal Kombat X (Finals), (1PM) Super Smash Bros. Melee (Finals), (4PM) Ultimate Marvel vs Capcom 3 (Finals), (6:30PM) Ultra Street Fighter 4 (Finals)
http://www.twitch.tv/srkevo2 – Friday (8AM – 8PM) Super Smash Bros. Melee (Pools), Saturday (8AM – 12PM)  Ultimate Marvel vs Capcom 3 (Pools),  (2PM – 4PM) Super Smash Bros. Melee (Semifinals), (6PM – 8PM) Ultimate Marvel vs Capcom 3 (Quarterfinals)
http://www.twitch.tv/srkevo3 – Friday (8AM – 4PM) Persona 4 Arena Ultimax (Pools / Quarterfinals / Semifinals), Saturday (8AM – 12PM) Guilty Gear Xrd -SIGN- (Pools), (2PM – 4PM) Smash Bros. For Wii U (Semifinals), (6PM – 8PM) Ultimate Marvel vs Capcom 3 (Quarterfinals)
http://www.twitch.tv/srkevo4 – Friday (8AM – 8PM) Smash Bros. For Wii U (Pools / Quarterfinals), Saturday (8AM – 12PM) Mortal Kombat X (Pools)
http://www.twitch.tv/srkevo5 – Friday (8AM – 6PM) Tekken 7 (Pools), Saturday (8AM – 2PM) Tekken 7 (Pools / Semifinals)
http://www.twitch.tv/srkevo6 – Friday (2PM – 6PM)  Guilty Gear Xrd -SIGN- (Pools), Saturday (8AM – 2PM) Guilty Gear Xrd -SIGN- (Pools / Semifinals), (4PM) Ultimate Marvel vs Capcom 3 (pools)
http://www.twitch.tv/srkevo7 – Saturday (8AM -8PM) – Killer Instinct (Pools / Quarterfinals / Semifinals), Mortal Kombat X (Quarterfinals / Semifinals)