Romantic series are usually hit or miss for me when it comes to anime. To me, it's all about substance. It has to give me a reason to keep watching it instead of being just some sappy boy meets girl and girl meets boy story where they spend the entire anime trying to confess to each other only to confirm their feelings in the final episode. That's why I prefer romantic comedies. I get to enjoy my love stories and I get to laugh! When I came across I Can't Understand What My Husband Is Saying it instantly rose to one of my favorite series next to Toradora! Here's what it's about!
The Story
I Can't Understand What My Husband Is Saying is a slice of life romantic comedy centered around the daily lives of Kaoru and Hajime. It has a great way of getting your attention right from the beginning. It starts off with the couple exchanging their vows. While the bride to be is pleased with her choice, her future husband is overcome with the reality that he's marrying someone out of his league. It's a bit of an opposites attract type of story, but that's part of this anime's charm. The characters explore their differences and similarities between otaku culture and their day-to-day lives.
This series is created by Cool-kyō Shinja and produced by G-angle with a total of 13 episodes. Each episode runs about three and half minutes so it's possible to finish the series in one sitting.
Even though it has a short run, I guarantee each episode will crack a smile on your face with its perfectly timed reference humor and reactions to Hajime's anime crazed antics! 
The Characters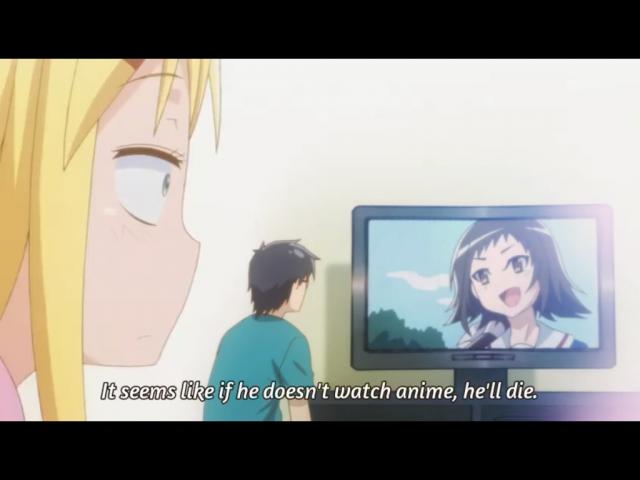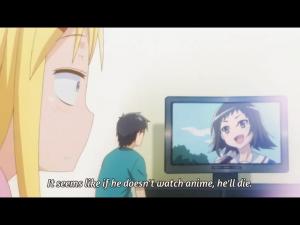 Kaoru is a diligent woman with a passion for her office job. Her husband Hajime, on the other hand, is an otaku who refuses to work to death like the rest of society. To Kaoru, the life and language of the otaku is something she can't comprehend.
There's also the hilarious cast including Hajime's obsessive cross-dressing little brother, his terrifyingly overbearing mother, Kaoru's borderline yandere uncle, and more!
Art & Animation
The artwork really impressed me whenever Hajime made a reference to a character of a popular series (Kenshin Himura from Samurai X for example). The artist really captured the image of Himura's face in place of Hajime's.
I was even impressed with the voice talent of the cast as well. Kenichi Suzumura (D. Gray-Man's Lavi), the voice of Hajime did an excellent job performing a near perfect impression of Gendo Ikari. Yukari Tamura (Oreimo's Kanako), played Kaoru's role and epitomized the "tsundere" wife. These two really do work well together to play a modern couple in urban Japan!
Overall Thoughts
I'm a sucker for romantic comedies actually, and I Can't Understand What My Husband Is Saying wormed its way into one of my favorites. Maybe it's because of the quirky love our leading couple has for each other, but as you watch each episode, you'll find the tender moments they share really touches the heart.
I give this anime a 8 out of 10 with big expectations for the next season! It airs in April 2015! I recommend watching it because you'll be in for a good laugh!
Recommendations
Still up for a good comedic romance series? Then check out Kamisama Kiss! The story revolves around Nanami Momozono, a girl down on her luck after her deadbeat dad skips town to leave her with his gambling debts. Evicted and homeless, Nanami sulks in a park where she meets a strange man with a fear of dogs named Mikage. After saving the man from a dog, Nanami shares her unfortunate story. He gives her his house as a token of gratitude. She accepts the offer due to her current living arrangements.
When Nanami arrives to Mikage's home, she discovers her new house is actually a shrine for worship. She is then greeted by the spirits of the shrine and Mikage's former familiar Tomoe, a foulmouthed kitsune with an attitude to match. Nanami learns that the man she saved was actually the Earth Deity who bestowed his mark upon her so that she may be the new deity. The story revolves around Nanami's struggle to adapt to the life of a deity while falling in love with her egocentric fox guardian.
It's worth checking out for your romcom needs. With the comedic banter between Nanami and Tomoe, you'll laugh until it hurts!
That's all for now, if you agree or disagree with my review or have a series to recommend, I'd love to hear about it. Fire me some mail at StephenR@theouterhaven.net!
See you around!
Would you enjoy this romantic comedy?
Summary
I believe so! This series delivers laugh after laugh with each passing episode under four minutes!
Comments Rating
( reviews)