Earlier today, Square-Enix, released a video that showcases what gamers are in store for when they pre-order the Collector's Edition of Final Fantasy Type-0, which only available directly from Square-Enix's webstore. The video gives fans a closer look at the exclusive content included in the limited Collector's Edition, including a bespoke presentation box and sleeve, and a copy of the game encased in a stunning GOLDEN SteelBook – showcasing the unique and beautiful artwork of famed illustrator Yoshitaka Amano. 

[KGVID poster="http://www.theouterhaven.net/wp-content/uploads/2014/09/final-fantasy-type-0-hd-logo.png" width="640″ height="360″]http://www.theouterhaven.net/wp-content/uploads/2015/01/fft0_cevideos_720p_en_pegi_1422630851.mov[/KGVID]

The Collector's Edition will include a 200 page FINAL FANTASY TYPE-0 Manga, exploring the origins of Class Zero – available for the first time outside of Japan, and a Composer's selection Soundtrack CD – featuring 15 tracks specifically chosen by the original soundtrack composer, Takeharu Ishimoto.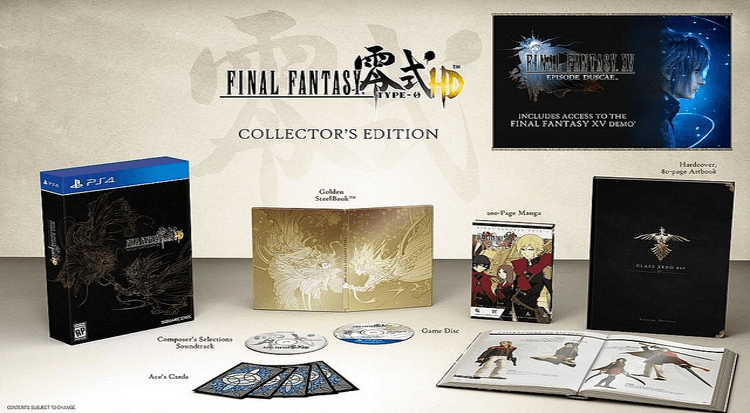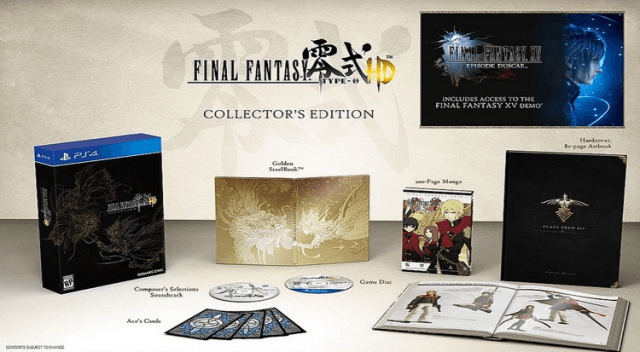 In addition, the Collector's Edition will also feature an 80-page hardcover Art book entitled "Class Zero 842" – chronicling the characters, enemies and world of Orience with a variety of stunning high-quality renders and concept art; as well as five life-size replicas of the iconic cards used by Class Zero's Ace.
FINAL FANTASY TYPE-0 HD will be released on 20th March 2015, for the PlayStation 4 and Xbox One and will feature an exclusive playable, downloadable demo of the highly anticipated FINAL FANTASY XV game titled FINAL FANTASY XV -EPISODE DUSCAE-, available only while stocks last.
The FINAL FANTASY TYPE-0 HD Collector's Edition is to be available at selected retailers in Europe and PAL territories, and is available to pre-order now from the SQUARE ENIX STORE for £79.99 / €99.99. Those who pre-order from the SQUARE ENIX STORE will also receive an exclusive sleeve, with a unique artwork layout and deluxe print finish.  
To pick up your copy, head over to http://weblet.eu.square-enix.com/geojmp.php?d=FFTYPE0CEPOLINK&l=all.