It has been a week since we all attended San Diego Comic Con, and with that, I am sure the con-hangover is wearing off. If you are trying to hold out on returning back to reality, here are some highlights from 2014.
 The Assassin's Creed Experience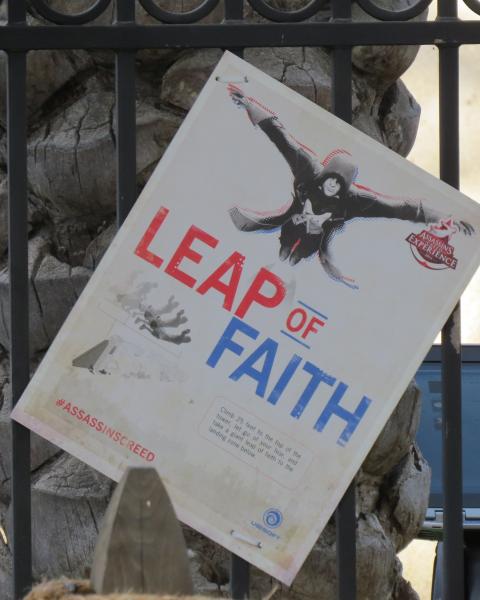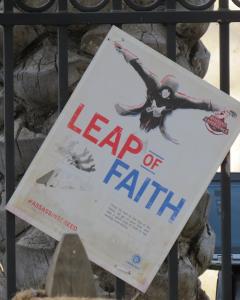 Ubisoft always cooks up something fantastic for San Diego Comic Con to promote the Assassin's Creed franchise. This year Ubisoft set up an introductory level Parkour  course appropriately named The Assassin's Creed Experience. It included several obstacles ranging from wall climbing, roof jumping, canon ball dodging, and swinging across a series of rings.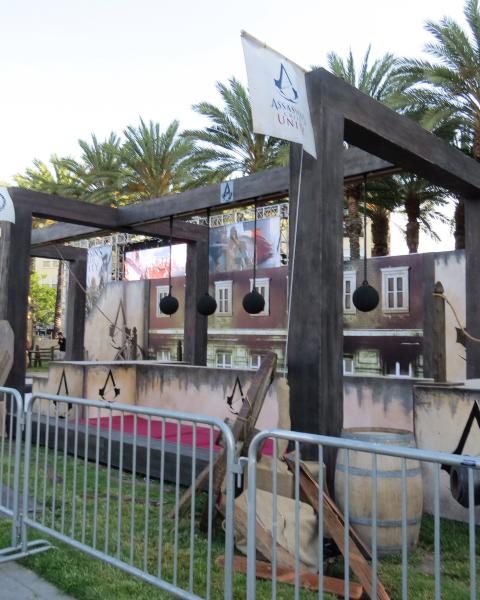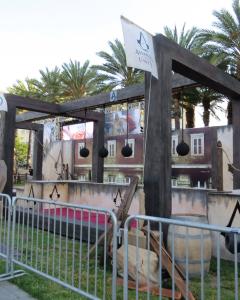 (part of the course before it opened on 7/24/14)
I was surprised at the complexity of the course since it was advertised as something for all skill levels. I had difficulty going through some of the obstacles and I am no neophyte to intense physical training. I think the beginner aspect comes in at knowing that you can continue through the course even if you fail a section. Everyone who completed the course received a free shirt that was exclusive to this event. In addition to this, each day, the person with the fastest finishing time wins a swag bag of Assassin's Creed goodies including a copy of Unity. Kacy Catanzaro, who you may recognize from American Ninja Warrior, showed off her skills when she went through the course on opening day. While I didn't stick around, I'll assume she won Thursday's swag bag.
I only wish Ubisoft planned ahead and left a place for us to check our bags. Running through this course with a bunch of stuff was not fun.
If you stopped by, these were the shirts available: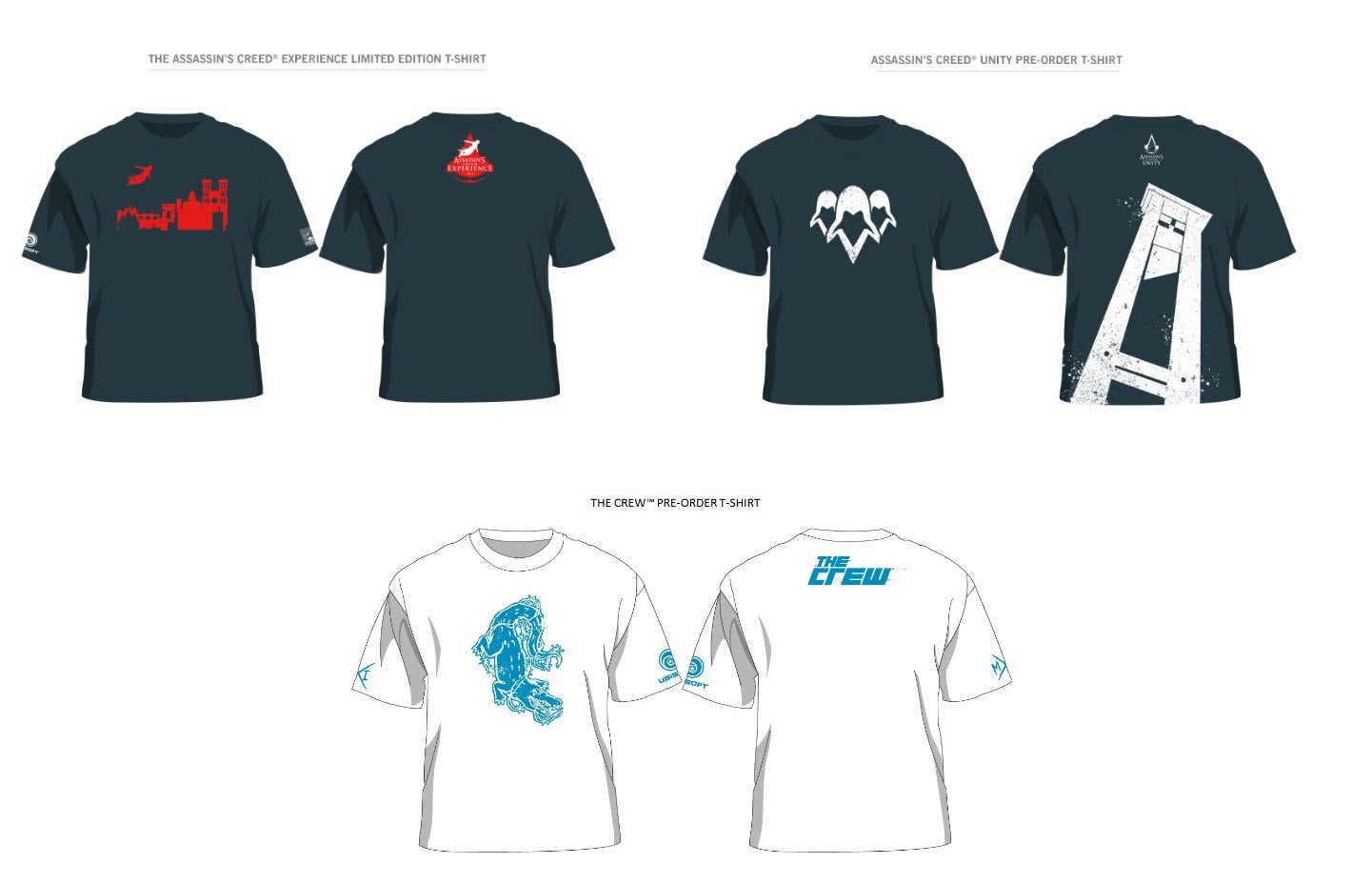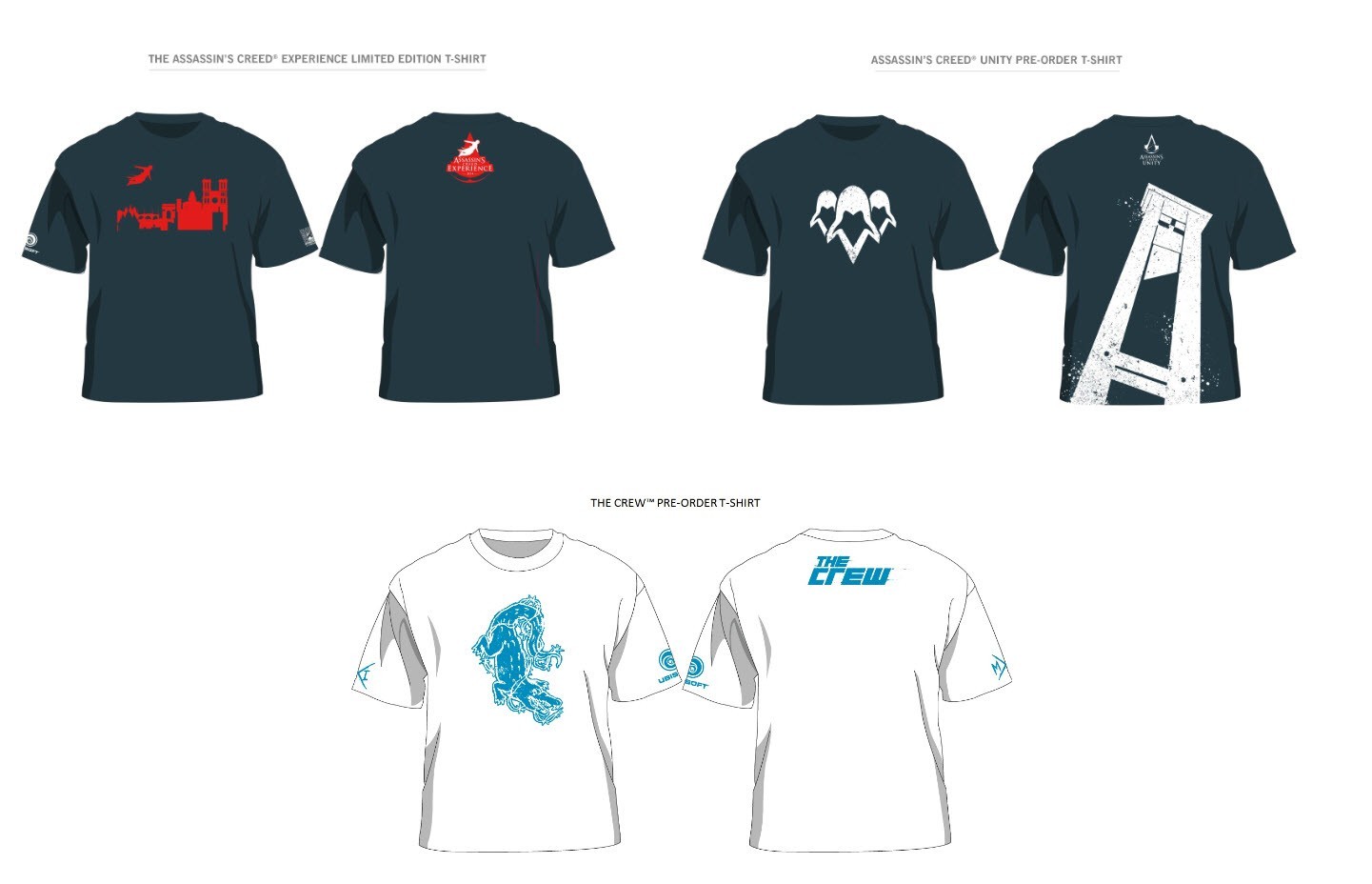 If stabby sandbox games are not your thrill, Namco devoted a good portion of their Friday panel to the new Tekken 7.
Tekken 7
Namco-Bandai's Tekken 7 panel revealed a lot more than just a video with cheesey English voice dubbing.
Tekken 7 marks the conclusion of the Mishima saga. We will finally get answers to questions we have had about the series since the first instalment back on the PlayStation.  Why did Heihachi throw his own son off a cliff? Why is he trying to kill his grandson? What happened between Heihachi  and his wife, Kazuni? Who is the origin of the Devil gene? It is clear that Kazumi will be a key player in the family dynamic for Tekken 7  – although details were not revealed as to how she will be used. Attendees and watchers of the stream were able to learn that Kazuni charged herself with protecting the world from Heihachi. Perhaps that was the purpose of the Devil gene? Who will be left standing at the end?
The story for Tekken 7 is a detailed background story of the Mishima clan and loose ends  forgotten throughout the series will be tied up. Attendees were advised to remember the man in the background of the game trailer – his identity is revealed and he serves a special purpose to the plot.
As usual, the new game will feature alternative costumes by renowned artists. Some of the mentioned names are Mari Shimazaki, Yusuke Muzaki, Ninnin , and Kenichiro Yoshimura.
At this time they are still formulating the gameplay so don't expect a demo in the very near future.
Sailor Moon Day
Moonies lined up for the Saturday Sailor Moon panel at around 8 am. The panel wasn't scheduled until 12:30pm. SDCC has this wonderful policy of not clearing out rooms – so I sat through three other panels to guarantee myself a seat for the Sailor Moon panel. At the Sailor Moon panel, the Viz media marketing department regurgitated the same news from their industry panel the day before. If I had known that I wasn't going to learn anything exclusive to that panel, I don't think I would have bothered wasting my morning waiting for the panel. Attendees had the luck of seeing some samples from the new English dub and some video from a previous convention in which panel attendees received the coveted Sailor Moon coin and a t shirt. Joy. We were told to attend Otakon to enjoy a Saturday Sailor Moon Day with related activities throughout the day. Viz will also have a rose gold coin available for fans at Otakon.  Sorry, Comic-con-goers.