https://www.youtube.com/watch?v=pP1AzWjs8j0
International indie developer Studio MONO has announced that its retro-futuristic diesel-punk RPG 'InSomnia' is now is now fully funded and stretch goals have been met. As it stands, they have been pledged $92,268 and It will now go into full time development. "It's an incredibly exciting and inspiring moment for Studio Mono, and we're truly humbled that so many people believe in our vision!", said their kickstarter page. The positive responce is impressive and shows that there is a market for hardcore that is not being adequently met by 'triple-A' titles; one might say the success of 'Dark Souls' proves this.
The story itself is not the games selling point, as it is not exactly unique , one can think of multiple games which start exactly the same way ."On a colossal spaceship,a character awakens from cryogenic sleep—unknowingly holding humanity's last best hope in his bare hands". It's a generic sci fi template, which isn't a bad thing as there is obviously a taste for it. The nonlinear play-style and diesel-punk aesthetic will, hopefully, help differentiate the game from outwardly similar peers. Indeed one can hardly think the words "futuristic" and "diesel-punk' without thinking of 'Fallout'.
A significant selling point of their pitch appears to be the " epic, non-linear storyline with many 'points of no return' ". People have recently rediscovered the love o
f games which don't hold your hand and leave the game open to you. This taste has been kindled for many again by the advent of 'Darksouls' and similar 'hardcore' games. People want real choices, with consequences and another winning pitch of the studio is the 'fate of the space station's many inhabitants will depend on your choices'. The feeling of real consequence has been missing from games for the last few years as many large titles became linear thrill-rides likened to the experience one has on a roller-coaster. People crave choices in games, and if the intention of the studio is to set the player loose in their world, with freedom to go and try anything, one forsees it being highly successful.
A cool feature of the game that is being promised is an intuitive trait system which "are gained accidentally", or from quests and other factors. "For instance, if you break your arm and forget to treat it for a long time, the bones will grow back improperly and you will gain a negative trait that will affect your shooting accuracy. However, you'll be able to remove this trait if you see a qualified doctor that's capable of treating your affliction."This will go along way to improve replayability and sense of being a unique character rather than just a class. Also it will add a layer to the game that will make it more immersive as "There are no clear instructions on how to lose a specific negative trait, so you'll need to look around carefully and think hard about possible solutions".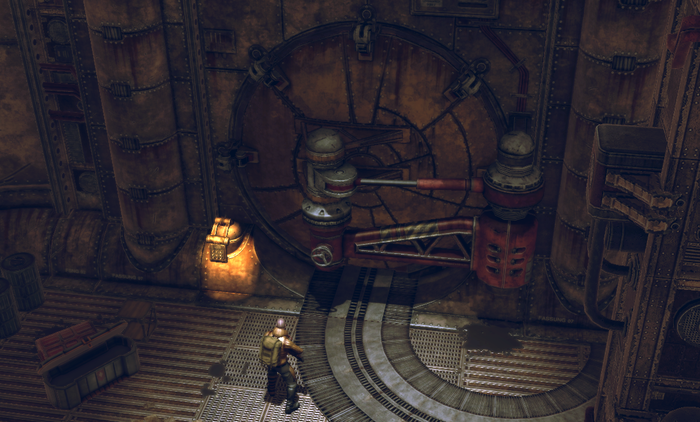 The difficulty is something the developers are vaunting and if they are to be believed they have good reason to."We're fans of non-linear development, chance meetings and unique situations", they said and their "goal is to create 'thoughtful challenges' – fine-tuned game-play that can keep players fully engaged for hundreds of hours". This is unlike games like 'Dead Space' where the higher difficulty levels are more  masochistic than challenging and its gameplay, in Studio Mono's words, "becomes stagnant" . Too many game's hard difficulty levels do not add to the game, Platinum's 'Bayonetta' is an example of a game doing hardcore right, adding a whole new layer to an already amazing game. The developers seem to be thinking along the same lines as they're, "not interested in "unfair hardcore," which would only lead to frustration". If they can deliver what they promise not only will their game be highly satisfying to play but also infinitely more engaging. This is not to say the studio isn't conscious of the risk of alienating 'casual' players they, "know that having a proper balance between hardcore elements and fun gameplay mechanics is essential"


The development of this game looks positive so far and the Studio are promising to ensure regular updates. They stated  "we understand it's incredibly important to stay in touch with our backers, and of course, for them to give us their feedback", which will assure many backers who have experienced the  "radio silence" of other kickstarters after their goals are met. The studio are promising their  "first fully playable demo" and will announce more about it at the end of August. The game is planned to be released on PC (possibly Mac and Linux) sometime in 2015 with 15-20 hours main storyline & 20-30 hours of side quests . Lets hope all goes well and they succeed in their aspirations to, "build the RPG of our dreams".
Head over to their Kickstarter page for more information on the title and it's developement – here.
Source: InSomnia Project's Website